The struggle is real. Despite living in the hometown of John Deere and being surrounded by acres of corn, my three children are the only farm kids in their school.
Earlier this month, my oldest son, Tyler, who is in 8th grade, began making statements at home, "Did you know, mom, corn is in everything?" I replied, "Yup, I do!" But then his questions got to be much more extreme, and at one point I said, "Where are you getting this information?" Well, I found out, the book The Omnivore's Dilemma was part of the new curriculum being taught in his Language Arts class.
I grabbed the book and began reading it with disgust. I'll be honest, it took every urge I had to not walk into the school and talk to the principal. Instead, I read the entire book, taking notes along the way.
Then I reached out to the teacher. I told her that while I was open to differences of opinion, this book was against every fabric of who I am. I asked if I could come and talk to the students about the real facts of farming. Ms. Thomson welcomed the idea with open arms.
Knowing just how impressionable middle school students are, I grabbed my Rolodex and connected with Domino's to partner with me on telling my dairy good story. I wanted to tie together the amazing care that goes into producing the food they eat, and when it comes to teenagers, you speak to them with pizza. I couldn't think of a better partner than Domino's because of their awesome partnership with dairy farmers.
So, I spent the day talking about cow comfort and land care and reiterating that there are no antibiotics in the milk and meat they consume. I even did a Q & A session and let me tell you, these students are smart and engaging, and they asked great questions.
I told my son, Tyler, who was one of my students for the day, when there is something you don't agree with, you stand up and speak. As the quote says, "People don't care how much you know, until they know how much you care."
So, we talked to great lengths about the passion, integrity, hard work, and commitment that make up America's dairy farms that are family owned and operated. I wholeheartedly believe these sentiments need to be echoed throughout the classrooms in America.
As the bell rang and school was over, the kids all raved to Tyler about how fortunate he is to be raised on a farm. "I know, I'm one of the lucky ones," he said.
---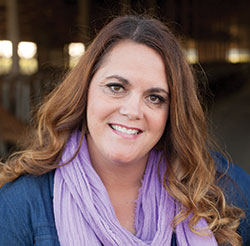 Karen Bohnert is a second generation dairy farmer, born and raised on her family dairy in Oregon and moved east after graduating from Oregon State University. Karen and her husband work in partnership with family, and they along with their three children live and work on the family's 500 Jersey cow dairy in East Moline, Ill. Karen's pride and love for dairy could fill a barn, and she actively promotes dairy anyway she can.