The information below has been supplied by dairy marketers and other industry organizations. It has not been edited, verified or endorsed by Hoard's Dairyman.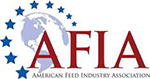 The American Feed Industry Association is pleased to announce the addition of Louise Calderwood as its director of regulatory affairs, effective July 2.
Calderwood will provide proactive industry and technical leadership on regulatory and state issues related to pet food and equine nutrition and general regulatory issues. She will work with the Association of American Feed Control Officials and lead AFIA's pet food and equine committees.
"We are extremely pleased to find someone of Louise's talent, expertise and experience to serve on our legislative and regulatory team," said Richard Sellers, AFIA's senior vice president of public policy and education. "I've known and worked with Louise for many years and am excited to see her join AFIA, and I know she will represent our members well."
Calderwood joined AFIA from the Northeast Agribusiness and Feed Alliance, where she served as government relations director. In this role, she developed and implemented policy positions for the association and communicated with federal, state and local governments in New York and throughout New England in support of modern agriculture. Calderwood also operated an agricultural consulting firm and a maple syrup farm in Vermont. She has additional experience with Sterling College, the Vermont Agency of Agriculture and the University of Vermont Extension Service.
Calderwood holds a master's degree in dairy science from Virginia Polytechnic Institute and a bachelor's degree in animal science from the University of Vermont. She can be reached at lcalderwood@afia.org or (703) 558-3568.
About AFIA
Founded in 1909, the American Feed Industry Association (AFIA), based in Arlington, Va., is the world's largest organization devoted exclusively to representing the business, legislative and regulatory interests of the U.S. animal food industry and its suppliers. The organization's membership is comprised of more than 680 domestic and international companies that represent the total feed industry—manufacturers of commercial and integrated feed and pet food, ingredient suppliers, pharmaceutical companies, industry support and equipment manufacturers. AFIA members manufacture more than 75 percent of the feed and 70 percent of the non-grain ingredients used in the country. AFIA is also recognized as the leader on international industry developments, and holds membership in the International Feed Industry Federation (IFIF).