The information below has been supplied by dairy marketers and other industry organizations. It has not been edited, verified or endorsed by Hoard's Dairyman.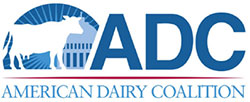 The time is now to tell the FDA: enough is enough!
The FDA is currently accepting public comments leading up to a public hearing that will be held on July 26, 2018 in regard to modernizing FDA's statutory "standards of identity" to provide more flexibility.
Currently, the FDA's standard of identity for the labeling of milk products mandates the product must be derived from a lactating animal (the standard of identity for "milk" is in the 21 CFR 131.110 -- lacteal secretion, practically free from colostrum, obtained by the complete milking of one or more healthy cows).
It is crucial the dairy industry speaks up and ensures the FDA understands just how crucial it is for them not only to uphold their current standards of identity for milk, but to enforce these standards -- restricting the use of the word "milk" on all future plant-based milk alternative product labels.
The dairy industry is in a state of crisis:
Dairy farms are going out of business at an alarming rate and the price of milk continues to decline. Meanwhile, the sales of plant-based alternatives are up 61 percent over the past five years and are projected to continue to gain market share into the future. As the consumption of fluid milk continues to decrease, we simply can no longer stand by and let deceitful plant- based alternative beverage marketing tactics slide by unchallenged.
It appears this FDA hearing could open the door to a new definition of milk, which would allow plant-based products to legally use the FDA standard when labeling plant-based alternative products. We must not let this happen. We are asking you to send in written comments and, if possible, testify in person at this hearing on: July 26, 2018 8:30 a.m. – 5:30 p.m. EST Hilton Washington DC/Rockville Hotel 1750 Rockville Pike Rockville, MD 20852. Electronic or written comments on this public hearing must be received no later than August 27, 2018. Your comments should be based on EPA's request for consideration to modernize their standards of identity to provide more flexibility for the development of healthier products, while making sure consumers have accurate information about these food products.
Tell the FDA:
FDA must enforce the current standard of Identity for "milk" that is required under current law.
FDA must prohibit the use of the word "milk" from all future labels when describing plant-based alternatives that do not come from a lactating cow (such as plant or nut beverages).
The use of the word "milk" on labels of plant-based alternative products purposely misleads consumers to think they are purchasing milk. Consumers for years have understood the nutritional and wholesome value of consuming milk. Milk provides 30 percent of the daily recommended calcium intake for most of the U.S. population and is a primary source to provide 3 of the 4 under consumed nutrients of public health concern as identified by the Dietary Guidelines for Americans ( Calcium, Vitamin D and Potassium). Milk also contains 8 grams of complete, natural protein per 8 ounce serving. Intentionally allowing consumers to falsely believe they are buying a plant based product that will provide the same nutrition as milk is not only dangerous, it is deceitful.
The dairy industry has worked hard to establish standards to maintain consistency in milk products no matter the brand or the store the milk is purchased from. With color-coded milk fat percentage labels, consumers can bank on the fact that product will be the same every time they purchase it, no matter where it is purchased from. Allowing plant-based alternative products to call themselves milk and appear next to real milk in the dairy case only confuses consumers.
While the contents of plant-based alternative products contain a variety of gums, additives, stabilizers, and flavorings; milk, no matter the brand, always contains the same wholesome ingredients: milk, vitamin D, and vitamin A (if purchasing a reduced milk fat product). There is no standardization in the plant-based alternative product industry.
For additional talking points, please click here:
For more information of the FDA public hearing and how to submit your comments for Docket No. FDA–2018–N–2381, click here: