The information below has been supplied by dairy marketers and other industry organizations. It has not been edited, verified or endorsed by Hoard's Dairyman
.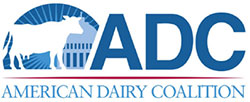 A new program called the Dairy Revenue Protection soon will be available to protect dairy farmers from from low milk prices.
The time is now to educate yourself on how you can manage your risk and protect cash flow and profitability!
Learn More about Dairy Revenue Protection from our Experts:
John Newton, Chief Economist, American Farm Bureau Federation
Dr. Newton, a 15 year veteran of the U.S. agricultural industry, holds a Ph.D and 2 Master degrees from Ohio State University in Applied and Agricultural Economics. He also was an award-winning faculty member at the University of Illinois Urbana-Champaign for his work in agricultural commodity markets, risk management and farm programs.
In his position as Chief Economist for the American Farm Bureau Federation, Dr. Newton provides analysis used for the development of and advocacy for Farm Bureau policy. He also serves on the board of directors for the Council on Food and Resource Economics and has been appointed to USDA's Agricultural Trade Advisory Committee and Advisory Committee on Agricultural Statistics in 2016.
Kurt Petik, Senior Relationship Manager, Rabo AgriFinance
Kurt will enlighten attendees on just how Dairy RP will assist farmers from a bankers persepective. How might this tool assist producers moving forward during such challenging times? Find out with Kurt's expert opinion.
With teams of ag experts in over 40 offices, Rabo Agrifinance connects clients to resources, knowledge and networks. Their vision is to support leading producers and agribusinesses by recognizing and encouraging the ambition, independence and innovative thinking that is necessary to compete in a global marketplace and to provide the foundation for future generations.
Additional Can't Miss Topics:
AG & Legal Workforce Act Update, Laurie Fischer, ADC CEO
With wage inflation and worker insufficiency, the dairy industry cannot wait any longer for a new H-2C visa program. As new legislation moves forward that creates an avenue to allow workers already inside the U.S., as well as new workers coming from their home countries, to use a viable guest-worker program on dairy operations, this offers an opportunity to get up to speed on how this new program works and if it will soon become law.
Upholding the Integrity of "Milk", Kim Bremmer, ADC Executive Advisory Committee Member and Owner of Ag Inspirations
Plant-based beverage manufactures continue to tap in to the reputation of consistency and nutritional value the dairy industry has built the word "milk" to represent. Will these manufactures continue to be allowed to confuse consumers?
This is a limited space event! Reserve your spot today.
The 2018 Dairy Outlook Forum at World Dairy Expo
Thursday, October 4 th, 2018
Noon- 1:30 p.m. CST
(Registration at 11:30 a.m)
Monona Room at the Alliant Energy Center
Madison, Wisconsin
RSVP Here