The information below has been supplied by dairy marketers and other industry organizations. It has not been edited, verified or endorsed by Hoard's Dairyman.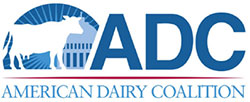 Stay up to speed with educational topics that will help you increase your profitability and run your dairy operations with confidence!
Featuring Kim Bremmer of Ag Inspirations
Click the above to watch the video!

The per capita consumption of fluid milk hit a record low and is expected to remain low with sales in 2018. It's already down 2 percent year to date. This is happening at the same time plant-and nut based beverages are expected to reach a record high sales in 2018.

Consumers are increasingly purchasing dairy-free alternatives. The main factor driving consumers to choose plant-based alternatives is their perception who believe plant-based alternatives are better for them. We must educate consumers on the health benefits of "milk".

Click here to watch the video.

Learn more about the ADC Milk Integrity Initiative and how to submit your public comments.

Kim started Ag Inspirations with a mission to inspire farmers to tell their stories, connect people to where their food comes from, and represent the great success of American agriculture today. She is passionate about teaching the story of sustainable agriculture and the role of science, technology and innovation in how we grow and raise food.

Kim is an academy member of the National Speaker's Association, the Wisconsin state coordinator for Common Ground, a regular contributor on Rural Route radio, and is the president of Wisconsin Women for Agriculture. She serves on the Executive Advisory Counsel for the American Dairy Coalition and in the EPA Animal Agriculture Discussion Group. Kim specializes in communication and connecting with everyday consumers AND is a vocal champion of agriculture everywhere she goes…from the grocery store to the airport.

Visit http://aginspirations.com to learn more!