The information below has been supplied by dairy marketers and other industry organizations. It has not been edited, verified or endorsed by Hoard's Dairyman.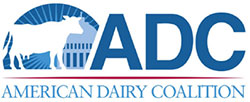 After 13 months of negotiations, which included nine rounds of negotiation discussing 34 separate policy chapters, the United States-Mexico-Canada Agreement (USMCA) finally was agreed upon by all three countries and, if approved by Congress, will replace the North American Free Trade Agreement (NAFTA).
However, the USMCA recently has received criticism from the U.S. dairy industry that it doesn't do enough for farmers. Some felt this agreement was going to save the sector. Let's look into this deal a bit more …
A key feature of the USMCA was removing Canada's class 7 pricing formula and expanding Canadian dairy markets to U.S. exports. Class 7 pricing was a huge concern in drafting this agreement because the U.S. dairy industry believed this new class pricing saturated the international markets. A win for U.S. producers in USMCA is preventing long term expansion of Canada's dairy ingredient pricing strategy.

China

The final negotiation of USCMA actually involved China. USMCA blocks China, which is the world's largest market for baby formula, from continuing to benefit from the Canadian Class 7 pricing scheme. USMCA puts a cap on Canadian exports on baby formula and stops further Chinese investments in Canada that were anticipated if Class 7 remained in place. If passed through Congress the way it has been negotiated, the new agreement prevents long-term loss of market share from shifting toward Canada.

In 2016, after China discontinued its one-child policy, a Chinese baby food company by the name of Feihe International announced it was going to invest hundreds of millions of dollars in order to build a factory in Canada to make baby formula. This new factory hasn't opened yet, but China would be directly benefiting from Canada's system for pricing, which would detrimentally cut into U.S. business for baby formula. If the Class 7 continued, the U.S. dairy experts estimate it would have grown to equal 20 percent of the U.S. export in just a matter of a few years as well as spur the loss of dairy farms in the U.S.
Mexico
Recall the Trump Administration worked to push back on trade agreements the U.S. deemed as unfair by increasing tariffs on certain products. As a result, many of these countries retaliated by placing their own tariffs on U.S. export products which includes cheese.
In Mexico, the U.S. placed new tariffs on steel and aluminum and Mexico retaliated by placing 20% to 25% tariffs on U.S. dairy products — a big problem for the U.S., since Mexico is a key trading partner for dairy.
Check out the statics below:
Mexico is the No. 1 U.S. cheese export market.
In 2017, the United States held a 75% share of Mexico's cheese import market.
U.S. cheese shipments to Mexico were valued at $391 million last year.
Last year's U.S. cheese exports to Mexico increased 8% in value over 2016.
Mexico accounts for 28% of total U.S. cheese exports.
U.S. suppliers shipped 96,413 tons of cheese to Mexico in 2017.
Over the last decade, both the volume and value of U.S. cheese exports to Mexico have nearly tripled.
Settling the USMCA was extremely important to protect and grow this valuable market for our U.S. cheese exports.
What Is Next?
The negotiation of USMCA still is not over because it is not yet law
. The agreement must be passed by the U.S. Congress and the upcoming election will determine how this plays out. The final vote isn't expected until early next year.
Since a USMCA agreement was finalized by all three countries on Sept. 30, 2018, it opens up an opportunity for ADC and the dairy industry to advocate on removing the U.S. steel and aluminum tariffs in exchange for Mexico and Canada to remove their tariffs on dairy products. While the removal of Class 7 pricing and expanding markets to Canada is a step in the right direction for dairy, the removal of tariffs to Mexico is now our focus.