The information below has been supplied by dairy marketers and other industry organizations. It has not been edited, verified or endorsed by Hoard's Dairyman.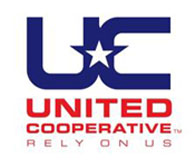 Donations of $45,000 will reach Wisconsin community food pantries this month thanks to Beaver Dam-based
United Cooperative, and matching funds from Land O'Lakes Foundation, CHS Foundation and CoBank. "
While our cooperatives are dedicated to the food industry through the growing, handling and marketing of grain and feeding of animals, food is not necessarily an abundant resource for families in need," shared David Cramer, United Cooperative President and CEO. "As a local agricultural organization that is committed to serving its members, we provide these resources to help area communities serve their residents with food," he added.
United Cooperative has provided $189 thousand dollars to Wisconsin food pantries over the last five years. This year, as many communities in the United Cooperative area were impacted by devastating floods, United Cooperative moved the timing of these donations to October to better support those in need, now. Donations to these food pantries are provided in honor of all United Cooperative farmer/members across south central, southwest and northeast Wisconsin.
(45 FOOD PANTRIES LISTED IN ALPHABETICAL ORDER BY COMMUNITY NAME)
Algoma – Kewaunee County Food Pantry
Ashippun - Ashippun Bread Basket
Beaver Dam - PAVE (People Against a Violent Environment, Inc.) Food Pantry
Beaver Dam - Dodge County Food Pantry
Belleville – Belleville Food Pantry
Berlin - Grace English Lutheran Church
Baraboo - Baraboo Food Pantry
Cecil - St. Martin Parish Food Pantry
Columbus - Columbus/Fall River Food Pantry
Columbus – Crossroads Columbus Food Pantry
Dale I Hortonville – Hortonville Community Food Pantry
Deerfield - Deerfield Community Center Food Pantry
Denmark (Maribel) - Community Cupboard, Inc.
Fox Lake - Living Hope Food Pantry, Inc.
Gillett – St. John's Lutheran Church
Green Bay - Paul's Pantry, Inc.
Hartford - First United Methodist Church Food Pantry
Hillsboro - Good Samaritan Thrift Store Food Pantry
Horicon - Sacred Heart Congregation Food Pantry
Horicon - St. Stephen's Food Pantry
Johnson Creek - Johnson Creek Food Pantry
Kewaunee - Lakeshore Community Pantry
Lena – St. Anne Parish
Lodi – Reach Out Lodi Community Store
Malone – Holyland Food Pantry
Manawa – Manawa Area Food Pantry
Manitowoc – The Salvation Army
Mayville - Mayville Food Pantry
Milton - Milton Community Action Food Pantry
Montello – Marquette County Care and Share Food Bank
Oconto Falls - Kingdom Come Food Pantry
Oshkosh - Oshkosh Area Community Pantry
Portage - Food Pantry at Big Spring Church
Portage – Portage Food Pantry
Sauk City - Sauk Prairie Area Food Pantry, Inc.
Pulaski - Community Pantry of Pulaski, Inc
Reedsburg - Reedsburg Food Pantry
Reeseville - Gathering Source
Ripon - Traded Treasures Thrift Store and Community Food Pantry
Shawano - SAFPARC (Shawano Area Food Pantry & Resource Center)
Shioction - Loaves & Fishes Community Food Pantry
Tilleda – United Lutheran Parish Food Pantry
Viroqua – Living Faith Food Pantry
Watertown - Watertown Food Pantry
Waupun - Waupun Area Food Pantry
ABOUT US:
Formed in 1936, United Cooperative is a full-service cooperative offering feed, grain, agronomy, and energy products and services to midwestern farmers and consumers. United Cooperative has locations in Auroraville, Baraboo, Beaver Dam, Belmont, Boscobel, Coleman, Deerfield, Denmark, Greenville, Gresham, Hartford, Hillsboro, Horicon, Hustisford, Johnson Creek, Kendall, Mayville, Oconto Falls, Ontario, Oshkosh, Pickett, Poynette, Prairie du Sac, Pulaski, Reedsburg, Ripon, Rock Springs, Sauk City, Shawano, South Beaver Dam, Westfield, Wilton, Wonewoc and Wyocena. For more information, visit www.unitedcooperative.com.