The information below has been supplied by dairy marketers and other industry organizations. It has not been edited, verified or endorsed by Hoard's Dairyman.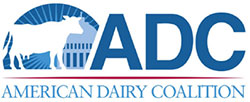 Register Here
Learn from the experts how Dairy RP can help you prepare today to put money in your pocket tomorrow!
The dairy industry is in a state of emergency. With farm income continuing to decline, producers are in need of a safety net now, more than ever. The American Dairy Coalition is providing dairy producers from throughout the U.S. vital educational information on a relatively new risk-management tool called the Dairy Revenue Protection Program (DRP), which helps producers protect their revenue. The DRP works similar to crop insurance, but is for milk.

The recently passed Farm Bill offers dairy operations with < 5 ml pounds of milk significant risk protection coverage via government-subsidized premiums under a new program called the Dairy Margin Coverage (DMC). The program, however, will be very costly to farms producing over 5 ml pounds of milk.

Larger dairy operations need risk protection too and the Dairy Revenue Protection Program (DRP) provides an additional tool which protects up to 95% of milk production regardless of operational size.

With the new milk protection programs just being introduced there is a lot of confusion. Learn how each program works and which program may be most beneficial to meet your operation's needs for profitability.

Featured Speakers:

John Newton
Chief Economist, American Farm Bureau Federation
Dr. Newton will provide an in-depth overview of this Dairy RP revenue protection program designed for dairy producers. How can this program help farmers protect themselves during times of low milk prices?

Find why the new Dairy Margin Coverage (DMC) in the recently passed Farm Bill may provide small protection for farms with 200 cows or more, but another option may be better suited for larger producers. Dr. Newton's overview of the Dairy Revenue Protection Program will explain the best options for risk protection for producers who milk more than 200 cows.
Alex Coenen
Director of Business Development, Milk Source
Alex is actively involved in the risk-management program and is responsible for forecasting, hedging strategy and execution for a multi-site dairy operations that produces 2.6 million pounds of milk per day and prides itself on sustainability and animal care.

Learn how Alex views the existing risk management plans and takes advantage of "put options" the Dairy Revenue Protection (DRP) offers by locking in their cost of production now to protect their revenue in the future.

Tim Baumgartner
Team Leader Dairy Lending, Compeer Financial
Tim has worked for Compeer, which is part of the Farm Credit System, for 15 years. He works with nine dairy specialists across Compeer's territory, focusing on clients milking 400 cows or more, with a portfolio sized at $1.2 billion.

Tim will provide a point of view, from the banking perspective, on the Dairy Revenue Protection program (DRP).