After many successful years and the sale of more than 1.4 million straws of semen, Delta Olympic's career has ended.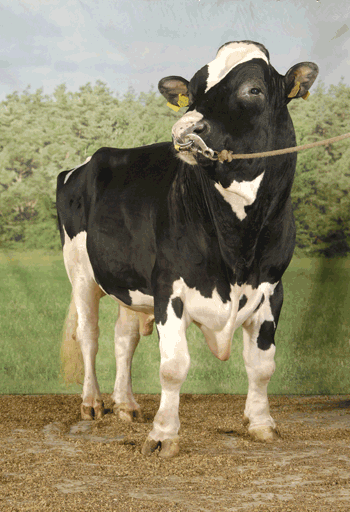 Born in 1999, the Dutch bull Delta Olympic (Addison x Besne Buck) got his first index in November 2004. He turned out to be an exceptional bull for production, conformation and health characteristics, such as udder health and calving ease.
He was a highly popular bull at home and abroad. CRV sold more than 1.4 million straws of semen from this bull in more than 50 countries. His international achievement was recognised in 2008 when he passed the one-million-doses of semen milestone after just four years of production.
Temperamental semen producer
Delta Olympic will live on in the memory of those who looked after him. He was known as 'verytemperamental' and an exceptionally good semen producer. His excellent semen production made it possible to deliver not only a large amount of conventional semen, but also a lot of sexed SiryX semen which has been marketed world-wide.
Thousands of satisfied producers.
The fact that Delta Olympic has thousands of satisfied users across the world is not surprising as he delivers excellent breeding results. His daughters are tall, strong cows with a lot of capacity and with wide sloping rumps. They are easy calving. In addition, they are characterized by very good milk production and superbly high attached udders with perfect teat placement.
The qualities of Delta Olympic will live on through his progeny – both sons and daughters. CRV has used him as a sire of sons in its breeding programme and his first sons have already entered CRV's active sire line-up.These sons, Delta Morazan and Havep Nano, are carrying on the good work of their father.Extensive background information about Delta Olympic can be found at: http://www.crv4all.com/eng/halloffame/index.htm
05.20.11