The National Institute for Farm Safety has changed its name to
International Society for Agricultural Safety and Health (ISASH).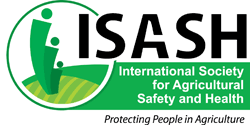 The organization's first name change since incorporation in 1962 was prompted by several key considerations, including:
Growth in international membership.
An increase in the number of members involved in health and agromedicine.
The desire to replace "farm" with the more encompassing "agricultural."
"Our new name and tagline, 'Protecting People in Agriculture,' better reflect the needs of agriculture and the work of our membership," said ISASH President Michael DeSpain, John Deere. "With our 50th anniversary coming up in 2012, we felt it was a good time to take a look at how we've evolved and where we want to go."
A name change was recommended in the 2008 NIFS Strategic Plan. The name change was approved at the January 18, 2011, board meeting.
"It was a long process, and the name change required a membership vote," said Amy Rademaker, Carle Foundation Hospital, Urbana, Illinois, and co-chair of the ISASH public relations committee. "But all the steps were important in getting the feedback necessary for truly making this the membership's name, logo and tagline."
ISASH is preparing for the first national meeting to be held under its new name, June 26-30, in Boise, Idaho. The theme is, "Strengthening Partnerships across Multiple Disciplines." Details are at www.isash.org
.

The International Society for Agricultural Safety and Health is dedicated to the professional development of agriculture safety and health professionals. Its 200 members include engineers, educators, insurers, physicians, nurses, veterinarians, statisticians, communicators, business leaders and others who contribute to a safer and healthier agricultural work place. For more information, go to www.isash.org .

05.17.2011