The information below has been supplied by dairy marketers and other industry organizations. It has not been edited, verified or endorsed by Hoard's Dairyman.
Jim Reid, dairy farmer and president of the United Dairy Industry of Michigan (UDIM), shared results of dairy promotion programs with over 100 attendees at the 90th Annual Meeting for the Dairy Council of Michigan and the 76th Annual Meeting for the American Dairy Association of Michigan on March 1. "Today's currency with the consumer is trust," said Reid. "Dairy promotion builds trust and influences sales."
Reid highlighted UDIM's professionalism, persistence and relationship-building expertise to reintroduce chocolate milk in the Detroit Public Schools meal service. "After reintroducing chocolate milk, 55,170 more 8-ounce milks were being purchased each of the first three weeks in the 2018 school year."
Sharon Toth, UDIM CEO, said, "Consumers' misconceptions affect sales, whether they are about the treatment of animals, the care of the land or the safety of milk in the grocery store." She discussed UDIM's farm tours with influencers, such as registered dietitians and school foodservice personnel, to build confidence in dairy foods. These tours change attitudes. Pre- and post-tour surveys clearly show a significant shift in positive opinions about dairy farming.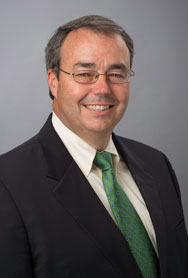 Matt McKnight, U.S. Dairy Export Council
The keynote speaker, Matt McKnight, Chief Operating Officer, U.S. Dairy Export Council (USDEC), discussed goals to accelerate USDEC's path to grow exports an additional five percent. USDEC represents more than 110 member companies and is dedicated to growing the value and volume of dairy exports. USDEC is funded by dairy promotion dollars, membership dues and USDA export program dollars. In 2018, the UDIM board of directors voted to support international marketing with a financial contribution to USDEC.
Over the last 20 years, U.S. dairy exports have grown from about $1 billion a year to more than $5 billion. But export volume has plateaued in recent years at roughly 15 percent of the U.S. milk supply. USDEC believes they can grow that number to 20 percent.
"Ninety-five percent of the population lives outside the U.S," McKnight said. "They want to eat more meat and dairy. Our goal is to support the opening of new markets for dairy by educating lawmakers about the benefits of well-negotiated trade agreements, keep members in markets overseas by helping them meet import requirements and marketing U.S. dairy products and providing tools to supplement members' own export sales efforts."
USDEC's strategy to increase exports to the next five percent includes increasing the level of awareness of U.S. artisan cheeses. "Commodity cheese is important," McKnight added. "However, we can increase export value with greater focus on selling cheese for foodservice and at retail that provides better returns for farmers and processors alike. Right now, we are commonly known for sliced cheese. We are going to promote U.S. specialty cheeses, which will also raise the value of commodity cheese."
Diane Golzynski, Director, Office of Health and Nutrition Services Michigan Department of Education, spoke on the power of their partnership with UDIM. "Our kids can't listen and be the best learners they can be without a great breakfast that includes milk," said Golzynski. "In partnership with UDIM — with all of you — we make sure Michigan has a future workforce. Our future is based on those kids at school right now. Our vision is to make sure they have three high-quality meals each day, weekend backpacks filled with food for those in need and mobile pantries during school breaks. Over half of our kids in Michigan aren't getting meals at home. We want to make sure that those families who rely on food assistance programs have access to healthy foods that include dairy products. I feel very blessed to work with the UDIM dietitians and staff so we can promote what real food is and what real nutrition looks like because it is the future of our kids that matters."
A panel of registered dietitians discussed their work with UDIM to influence trust and sales. Jodi Nemeth, RDN, Pediatric Associates of Livingston County, is a mom and long-distance runner. She had little dairy as a child. "Four broken arms and a broken foot later, today I tell kids, 'You only get one chance to build your bones,'" said Nemeth. She conducts media interviews on behalf of UDIM. She also reaches higher-education dental students, dispelling myths about dairy.
Laura Freeland Kull, MS, RDN, Professor and Director of Nutrition and Dietetics, Madonna University in Livonia, said she is able to encourage her students' success by working with UDIM to provide instruction materials and take students on dairy farm tours.
"Taking future dietitians on a farm tour supports their ability to explain dairy farming to their clients in the future," said Freeland Kull. She acknowledged the benefit to students to see dairy farms and foods in action and also have access to UDIM resources.
Jenn Fillenworth MS, RDN, Culinary Dietitian and author of Jenny with the Good Eats blog, has worked with UDIM for two years mixing culinary skills with nutrition. "I really believe in the mission behind Milk Means More," said Fillenworth. "It's a tradition. I grew up with dairy. When I became a chef, a big part of my recipes included dairy. Dairy is one of our biggest assets." Fillenworth works on recipe development, food photography, blogging, media segments, social media, community engagement and creating connections for UDIM.
Bilal Saeed, Managing Partner PKMD Media Group, consults on sports marketing partnerships with UDIM and manages the Michigan Milk Cup, a soccer tournament that spreads the milk message through social media and digital engagement. Over 20 semipro and 50 youth teams are participating in the 2019 Michigan Milk Cup. Saeed also works on Community Kicks, a clinic and partnership with UDIM milk athlete, Lindsay Tarpley, that targets underserved communities and children who have not been exposed to nutrition education and wellness.
Reid told the group to think of UDIM as the farmers' partner on and off the farm. "When your reputation is at risk due to a crisis, UDIM has a team of experts to help you manage it."
UDIM released their annual report at the meeting highlighting programs in schools, sports nutrition and marketing, connecting with consumers, health professional outreach and more. Copies are being mailed to all Michigan dairy farmers.
About UDIM
The United Dairy Industry of Michigan is the umbrella organization for the Dairy Council of Michigan and the American Dairy Association of Michigan. On behalf of Michigan's dairy farm families, these non-profit organizations provide science-based nutrition information to, and in collaboration with, a variety of stakeholders committed to fostering a healthier society, including health professionals, educators, school nutrition directors, academia, industry, consumers and media. For more information, visit MilkMeansMore.org.