The information below has been supplied by dairy marketers and other industry organizations. It has not been edited, verified or endorsed by Hoard's Dairyman.
A portfolio of educational quick guides to fatty acids
As a nutritionist we understand your need for timely and accurate information to provide your clients with, as well as to continue to build your own knowledge. Our new Fatty Acid Quick Guide Kit covers the core concepts of fatty acid nutrition at a glance, along with a 5 minute video on Fatty Acid Forum to accompany each Quick Guide. These seven 'oversized flashcards' are inside a durable pocket portfolio to make these lessons easy to carry in your car or store in your office for easy reference, as well as utilizing on the dairy to reinforce important fatty acid concepts to your clients.
These Quick Guides are designed for:
Nutritionists who want to brush up on the basics of fatty acid balancing, or who want simple visuals to share with their clients.
Dairy producers who are looking to improve milk, milk fat and herd health through fine tuning the fatty acid balance in their diets.
Students who want to dig deeper in their dairy nutrition courses.
Dairy Science professors who want to make Fatty Acid education accessible and understandable through short videos.
What is the Fatty Acid Forum?
The Fatty Acid Forum is a free learning platform that provides you with access to the leading science on dairy nutrition in short video format. While Fatty Acid Forum was originally released to cover topics on lipid nutrition of dairy cattle, it has expanded to include timely and relevant advances in dairy cattle management, nutrition, and health. The Fatty Acid Forum website has posted a multitude of webinars covering subjects from many speakers and university leaders.
Check out the Fatty Acid Forum Now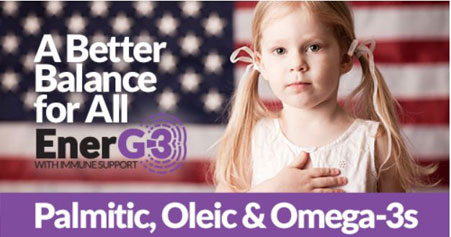 Improve immune health, milk and milk fat support with a better balance of Palmitic, Oleic and Omega-3s. Simply Feed A Better Balance with
EnerG-3: A Better Balance for All