The information below has been supplied by dairy marketers and other industry organizations. It has not been edited, verified or endorsed by Hoard's Dairyman.
Starting this spring, students who have never had a chance to see the inner workings of a dairy farm will get the chance to do so—all without having to leave the comfort of their own classroom.
With just an internet-connected computer, webcam and microphone, students across the state can join their classes on a Virtual Farm Trip to a Michigan dairy farm, where they'll see cows, tour barns and milking parlors and learn directly from real dairy farmers how milk and dairy foods get from the farm to their schools.
Using live video conferencing technology, these one-of-a-kind virtual farm trips, provided through the United Dairy Industry of Michigan (UDIM), allow students to interact and have real conversations with dairy farmers while the farmer is actually working on their dairy.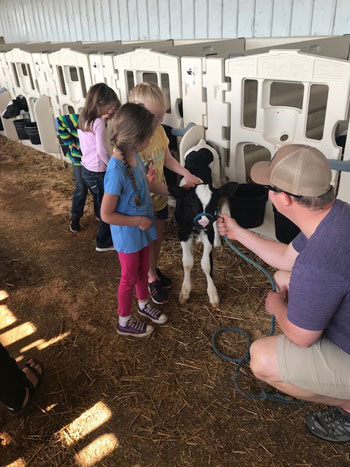 "These new trips help students learn more about dairy production: How cows are raised, how they grow, how they are milked and what it takes to get dairy foods to their table," said UDIM Youth Wellness Executive Director Melissa Gerharter. "Classrooms participating in the program will enjoy a memorable, engaging and fun learning experience that will bring students closer to a dairy than ever before."
The first trip, to be held June 4 for pre-school students through 2nd grade, will help students learn the basics of a dairy with special emphasis on calves and the life cycle of a cow on a dairy. Additional trips are being planned for the fall to include all age groups.
For more information or to register for a Virtual Farm Trip to a Michigan Dairy, visit https://www.milkmeansmore.org/virtual-farm-tour/.
About UDIM:
The United Dairy Industry of Michigan is the umbrella organization for the Dairy Council of Michigan and the American Dairy Association of Michigan. On behalf of Michigan's dairy farm families, these non-profit organizations provide science-based nutrition information to, and in collaboration with, a variety of stakeholders committed to fostering a healthier society, including health professionals, educators, school nutrition directors, academia, industry, consumers and media. For more information, visit MilkMeansMore.org.