The information below has been supplied by dairy marketers and other industry organizations. It has not been edited, verified or endorsed by Hoard's Dairyman.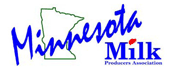 Minnesota dairy farmers will see rebate payments for the federal Dairy Margin Coverage program if they sign up for the five-year program. Two conference committees worked to secure the $8 million in payments, which would reflect an average of about $3,000 per farm, minimum.
"We thank the chairs including Representative Poppe, Senator Westrom, Representative Mahoney and Senator Pratt for their work on this important financial aid for dairy farmers," said Dave Buck, Goodhue, Minnesota Milk President. "We are so glad to see this is meaningful aid to help dairy farmers position for their future recovery and look forward to Governor Walz signing it into law."
The aid is paired to the new federal Dairy Margin Coverage program. Sign-up for that program begins June 17 and will go through September 20. Dairy farmers and their processors, as well as the state's USDA-FSA offices, will soon receive instructions on how to apply, should they meet the requirements outlined in the law. Those requirements include producing fewer than 16 million pounds of milk in a year (around 750 cows), limiting equal payments up to 5 million pounds of milk per farm and a limit of $9,000 per farm.
"On a farm-by-farm basis, this will be a little bit of monetary aid for dairy farmers, but it will be a great mental reminder to dairy farmers that the state of Minnesota supports our farmers," said Garrett Luthens, Hutchinson, Minnesota Milk Policy Chair. "We hope it allows Minnesota to have one of the top Dairy Margin Coverage sign-up rates in the country and encourages farms to think long term about their operations."
Minnesota Milk is working with the respective Minnesota and U.S. departments of agriculture, as well as dairy processors, to ensure as orderly and fast process as possible. While the payments are one of the primary accomplishments of the 2019 session for dairy farmers, Minnesota Milk also supported lowering agricultural property taxes covered in referendums to 30 percent over four years in the Ag2School credit, Section 179 conformity with 80% add back, continuation of the Minnesota Dairy Initiatives, Livestock Investment Grants, Dairy Business Planning Grants and other items.
"Minnesota Milk works in a bipartisan fashion for dairy farmers," said Lucas Sjostrom, Minnesota Milk executive director. "Our accomplishments this session shows the collective strength of what dairy farms mean to the Minnesota economy. While we do not advocate for particular farm sizes or types of dairy farming, we are proud that we will have aid coming to the vast majority of Minnesota farms at a time when they need it."
ABOUT THE MINNESOTA MILK PRODUCERS ASSOCIATION
Minnesota Milk Producers Association is a membership organization representing grassroots dairy farmers through policy work, education and membership development. Our work is vital to the future of Minnesota's dairy industry and is directed by a board of dairy farmers elected by their peers. For more information, visit www.mnmilk.org.