Are they, though? The odds. In our favor?
Dairy farming has always felt like an uphill battle. The hours, the pay, the public perception; it feels like too much. But then, year after year, it all comes together at the last minute, and we push through one more season.
Until this year. This year feels different. Yes, milk prices stink. Yes, everything else is expensive. Yeah, people don't get us. But the mechanics of our job is what has always saved us. We know how to treat our cows, we know how to treat the land, and we know how to survive. Until the uncontrollable odds become stacked against us.
For the last three years, more and more farms have been selling out. The top dairy states have been losing hundreds of farms a year thanks to the volatile dairy economy. But did you ever think it would come to this? I'm afraid to say that this year, the weather may claim more farms than the money. In northwest Pennsylvania, where my family farms, last year was one of the worst crop years we've ever seen, and this year isn't looking much better. We didn't make enough feed last year, and if we can't get the rest of our corn planted, we won't have enough for the year that follows. Any good dairy farmer knows that if you don't have a previously agreed upon deal, buying feed is impossible.
The weather, "the odds," have put us into an impossible situation. We have a matter of days, maybe weeks, to make some feed, any feed, before our future is sealed. And I don't think we're alone. For years now, I've dreaded having to sell out due to low milk prices, and now it's Mother Nature who's betraying me. I could find ways to save or make money; it's not easy but it's doable. But the weather is a beast all of its own.
But, it's June. So as I anxiously pray every night and hope every day, I'll go through the motions of celebrating this life and the cows I love. Until the clouds clear, which may be never, I'll continue leaving every farmer I see with the same phrase. Good luck; may the odds be ever in your favor.
---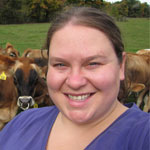 The author dairies in partnership with her parents and brother at Spruce Row Farm in Pennsylvania. Jessica is a graduate of Pennsylvania State University, and since 2015, she has been active in promoting dairy in her local community. You can find her and her 250 Jersey cows on Facebook at Spruce Row Dairy or on Instagram at @seejessfarm.
---
Join us on June 10 for our next webinar:
"Synchronization strategies for heifers" presented by Joe Dalton, University of Idaho
Heifers do not provide a return on investment until after entering the milking string. New synchronization strategies have been developed to enhance reproduction in heifers. These concepts aid dairy producers in optimizing age at conception and age at first calving goals while limiting feed costs. Sign up here.