The information below has been supplied by dairy marketers and other industry organizations. It has not been edited, verified or endorsed by Hoard's Dairyman.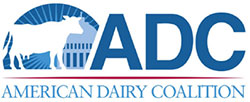 The American Dairy Coalition and its nationwide members applaud the passage of the Cellar-Newhouse Amendment, which will allow the year-round employees of the dairy industry to utilize the H-2A visa program.
Previously, the H-2A was not available for the dairy sector's year-round labor needs. Without a tool to provide our nation's dairy farmers with a reliable workforce, farms struggle to grow or sustain their businesses with confidence. This amendment will provide a tool to answer the pivotal question, "Who will milk the cows?"
"Dairy owners are constantly seeing their "Help Wanted" ads go unanswered," said Laurie Fischer, CEO of the American Dairy Coalition. "Our domestic workforce is not filling agricultural jobs that are necessary to keep it running. We need tools to provide an avenue for farmers to access legal workers willing to fill these year-round jobs. In addition, this program provides the critical time employers need to ensure their workers are trained to provide the best standard of animal care attainable."
The dairy industry has a total economic impact of $620 billion dollars and supports more than 3 million jobs. All of this depends on workers to milk and care for the cows on a daily basis. The addition of dairy to the H-2A program, through the passage of the Cellar-Newhouse Amendment, will be a critical step toward ensuring this happens.
About The American Dairy Coalition:
The American Dairy Coalition (ADC) is a farmer-led national lobbying organization of modern dairy farmers. We focus on federal dairy policy.