The information below has been supplied by dairy marketers and other industry organizations. It has not been edited, verified or endorsed by Hoard's Dairyman.
Jeff Ziegler accepts award on behalf of George A. Miller
A defining mark of leadership is the ability to look ahead, identify opportunities and take action to move them forward. This year's Distinguished Leadership Award recipient, George A. Miller of Columbus, Ohio, has dedicated his career to advancing dairy cattle genetics, and improving productivity for farmers around the world.
It only takes one decision to change a life, or an entire breed, forever. August 30, 1965 is a day that George will never forget. On a farm 50 miles west of Washington, D.C., Round Oak Rag Apple Elevation was born — a sire that would forever influence the Holstein breed. George proposed the magical mating to his cousin, Ronald Hope, because he recognized something special in that genetic combination.
From the day he was born, Elevation stood apart, and he would go on to become a global breeding phenomenon. With more than 80,000 daughters and at least 2.3 million granddaughters, Elevation is known as the most influential dairy bull ever born. It is estimated that more than 95 percent of all Holstein animals worldwide can trace their bloodlines back to Elevation. None of this would have been possible without George's vision of what could be, and his determination to see it through.
Hailing from Virginia, George grew up helping on his uncle's Round Oak Farm. He and Ronald worked with the milking herd, and it was there that George developed an interest in the breeding aspect of the herd and pedigrees of Holstein cattle.
In 1943, George graduated as salutatorian from Lincoln High School in Virginia. He went on to study dairy husbandry at Virginia Polytechnic Institute (VPI) and graduated in 1952 with his bachelor's degree. During his time at VPI, he worked as the dairy's herdsman and was the dairy science club president. Thriving on education, George received his master's degree in dairy science from VPI in 1956.
After graduation, George joined the Virginia Artificial Breeders Association (VABA) as a fieldman. He was soon promoted to sales manager and then to general manager. While manager, George oversaw many new developments and changes to the dairy and A.I. industry.
During his tenure, VABA converted from liquid semen production to a 100 percent frozen semen product. Together with other A.I. managers, he created United Semen Exchange. This allowed small A.I. organizations, and the dairymen they served, to access a wider selection of sires from across the country.
Sharing his talents and enthusiasm with Virginia breeders, George enjoyed offering advice on matings to help develop a sound herd. Respecting a farmer's time and finances, George directed the development of Do-It-Yourself insemination programs, so farms could reduce the costs of incorporating A.I. in their herds.
A lifelong student of Holstein ancestry, George is respected by Holstein enthusiasts everywhere. Retired in 1996, his example continues to inspire the dairy community and its leaders. George is a strong advocate for the U.S. Holstein cow and enjoys sharing the opportunities presented by top U.S. Holstein sires to cattle breeders.
George's 40-year career in the A.I. industry, coupled with the revolutionary Elevation sire, has been an incredible contribution to the Holstein breed and the entire dairy community. His commitment and vision will continue to inspire for generations to come.
About the Award
This award recognizes an individual who has made a career of providing outstanding and unselfish leadership for the betterment of the dairy industry. Miller received the award at the recent National Holstein Convention in Appleton, Wisconsin.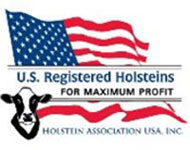 Holstein Association USA, Inc.
,
www.holsteinusa.com
, provides products and services to dairy producers to enhance genetics and improve profitability–ranging from registry processing to identification programs to consulting services.
The Association, headquartered in Brattleboro, Vt., maintains the records for Registered Holsteins® and represents approximately 30,000 members throughout the United States.