The information below has been supplied by dairy marketers and other industry organizations. It has not been edited, verified or endorsed by Hoard's Dairyman.
The California Milk Advisory Board (CMAB) recently welcomed the 2019-2020 class of Dairy Princess representatives for a four-day session to launch their year of service as California dairy industry advocates. Seventeen Dairy Princesses and Alternates from Districts 1 to 9 attended the Dairy Princess Training in July where they learned presentation and public speaking skills, etiquette and social media tips and an overview of industry programs and issues.
The 2019-2020 California Dairy Princess Class includes: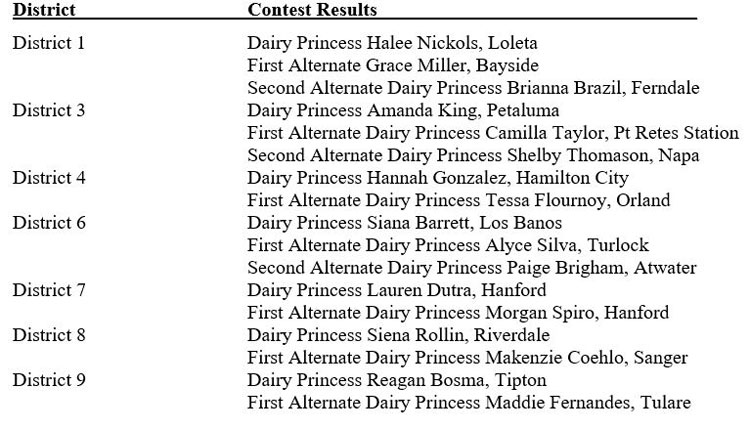 From left to right: Siena Rollin, District 8 Dairy Princess; Makenzie Coelho, District 8 First Alternate; Morgan Spiro, District 7 First Alternate; Lauren Dutra, District 7 Dairy Princess; Siana Barrett, District 6 Dairy Princess, Paige Brigham, District 6 Second Alternate; Alyce Silva, District 6 First Alternate; Amanda King, District 3 Dairy Princess, Camilla Taylor, District 3 First Alternate; Shelby Thomason, District 3 Second Alternate; Halee Nickols, District 1 Dairy Princess; Grace Miller, District 1 First Alternate, Brianna Brazil, District 1 Second Alternate; Madeline Holmes, District 1 Dairy Princess; Austynn Gallagher, District 1 First Alternate; Reagan Bosma, District 9 Dairy Princess; Maddie Fernandes, District 9 First Alternate; Tessa Flournoy, District 4 First Alternate; and Hannah Gonzalez, District 4 Dairy Princess.
California is the nation's leading milk producer. It also produces more butter, ice cream and nonfat dry milk than any other state. The state is the second-largest producer of cheese and yogurt. Dairy products made with Real California Milk can be identified by the Real California Milk seal, which certifies that the products are made with milk produced on California dairy farms by California dairy farm families.