"As someone who spent quite a bit of time in the hospital receiving lifesaving treatments multiple times before the age of four, I've always had a sincere sense of gratitude towards others that go above and beyond for someone else," said 21-year-old Willow Voegtlen. This same idea is what inspired her to seek and provide good for others.
From a young age, Voegtlen made it her mission to donate her premiums earned from shows, dairy judging contests, and market sales to the Children's Miracle Network to give children like herself a chance to fulfill their dreams. Although those youth activities eventually came to a close, her attitude toward helping others did not.
Once she aged out of 4-H and moved 14 hours away from her native Pennsylvania to Wisconsin, she wanted to make a difference in the lives of the farmers who helped shape her into who she is today. "I love the cows I've worked with, but it's the people that fueled my passion. My mother always said, 'The only resolution to solve a problem is to raise awareness.'" That's exactly what she did.
"It's no secret that the dairy farmer suicide rate has dramatically increased. Learning of this epidemic was heart-wrenching and motivated me to promote mental healthcare for everyone," she elaborated. It takes courage to advocate for mental health, but her dreams have done that and so much more.
She created a shirt that reads "Farming is tough, darling, but so are you" to encourage others to spread awareness and work toward ending the stigma. "I originally only imagined selling the print minimum of 18 shirts. Even if I had to buy all 18 and later sell them to family and friends, I wanted to donate $200 to the American Foundation of Suicide Prevention," Voegtlen explained.
Her ambition, passion, and drive inspired others to take part in this awareness. After advertising on Facebook, she sold 160 shirts and will be donating over $1,100 to the foundation. That is almost nine times more than what she ever imagined. "I wanted this to be a reminder to everyone to stay strong even through the toughest battles," she said. "That's what I love about the dairy industry. We are all in this together. We are a community."
Voegtlen also offered advice on how we can support others in our lives. "Check in with your family, friends, and neighbors often. Don't be afraid to talk to someone because there is always somebody willing to listen," the young woman advised. She also suggested learning and becoming familiar with the symptoms of depression and ending any kind of hurtful words that may be exchanged between others. Using hashtags such as #MentalHealthMonday, #DairyStrong, and #FarmTough are also strategies to share thoughts with others across the internet. September 8 to 14 is the 2019 National Suicide Prevention Week. How will you participate?
---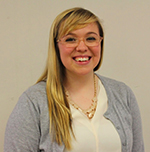 Sarah Thomas grew up in Pittsboro, N.C., showing and raising dairy heifers. Thomas attends Virginia Tech, majoring in dairy science with minors in agricultural economics, communication, and Spanish. On campus, she's involved with Dairy Club, Sigma Alpha, and has been a member of the Virginia Tech dairy judging team. Thomas is the current National Junior Holstein Advisory Committee Chairperson and is the 2019 Hoard's Dairyman summer editorial intern.