The information below has been supplied by dairy marketers and other industry organizations. It has not been edited, verified or endorsed by Hoard's Dairyman.
Join us for a webinar!
Healthy gut, healthy calf, healthy future
Tuesday, September 24th at 12 PM (CST)
Supporting calf health can pay dividends in reduced treatment costs, lowered death loss and improved gain and productivity.
To meet these goals, operations must ensure calves get a good start before they are challenged with stress.
Learn from top experts, Dr. Michael Steele and Dr. Andy Skidmore about how to help manage calf health through the gut.
This webinar is brought to you by Lallemand Animal Nutrition.
Speaker biographies:
Andy Skidmore, DVM, PhD
Andy Skidmore, DVM, PhD
, has been a member of the Ruminant Technical Services team with Lallemand Animal Nutrition since 2016.
Dr. Skidmore received his DVM from Kansas State University. Following graduation, he joined a mixed animal practice in Wisconsin then attended Cornell University for his PhD in dairy cattle management. Following his PhD, he went on to be the dairy management specialist at Michigan State University. After leaving Michigan State University he continued to support the dairy industry in a number of roles as a farm manager, veterinarian and industry technical services support.
Skidmore also has held several leadership positions in the dairy industry. He was the secretary and Reproduction Award Director of the Dairy Cattle Reproduction Council, and a Federation of Animal Science Societies scientific advisory committee member for the American Dairy Science Association.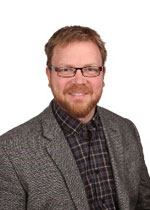 Michael Steele, PhD
Michael Steele, PhD
is an Associate Professor of Animal Physiology at the University of Guelph. Dr. Steele's research focuses on the mechanisms that control gastrointestinal health and development in cattle and has published over 60 manuscripts.
His passion for the dairy industry started at a young age, on his family's dairy farm in southwestern Ontario. Dr. Steele completed his BSc, MSc and PhD at the University of Guelph. He previously was an Assistant Professor at the University of Alberta as an NSERC Industrial Research Chair. Prior to returning to academia, he held roles at Masterfeeds and Nutreco Canada Ag Research.
Steele has been awarded the Canadian Society of Animal Science Young Scientist Award, the Cargill Young Animal Nutritionist Award, the Lallemand Award for Excellence in Dairy Nutrition Research and the American Society of Animal Science Early Career Achievement Award