The information below has been supplied by dairy marketers and other industry organizations. It has not been edited, verified or endorsed by Hoard's Dairyman.
The American Feed Industry Association (AFIA) has received funding from the U.S. Department of Agriculture's (USDA) Foreign Agricultural Service (FAS) under its Emerging Markets Program to conduct a market assessment in Vietnam.
The goal and focus of the assessment will be to identify how to improve the availability and transparency of distribution channels by addressing sanitary and phytosanitary issues and other non-tariff barriers, thereby increasing prospects for U.S. trade and investment. Once the market assessment is completed, AFIA will work with FAS on implementing and addressing the recommendations that come out of the assessment.
Vietnam is one of the fastest growing economies in Asia, maintaining an average 6% annual GDP growth over the past 10 years. In recent years, Vietnam has also risen as a leading agricultural product importer.
The key driver of the local feed industry has been the Vietnamese hog industry. In 2016, imports of feed ingredients sharply increased to meet the growing demand of local feed. However, with the African swine fever (ASF) outbreak, swine production is expected to drop resulting in increased imports of pork products. Regardless, estimates put the market size for Vietnam's animal feed additives at roughly $160.5 million in 2022, up from $112.45 million in 2014, growing at a compound annual growth rate of over 4.7% from 2015 to 2022.
AFIA, with the support from experienced, reputable consultants and in collaboration with FAS and existing resources in Vietnam, will implement the market assessment over the next six months.
About AFIA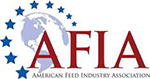 Founded in 1909, the
American Feed Industry Association
(AFIA), based in Arlington, Va., is the world's largest organization devoted exclusively to representing the business, legislative and regulatory interests of the U.S. animal food industry and its suppliers. The organization's membership is comprised of more than 680 domestic and international companies that represent the total feed industry—manufacturers of commercial and integrated feed and pet food, ingredient suppliers, pharmaceutical companies, industry support and equipment manufacturers. AFIA members manufacture more than 75 percent of the feed and 70 percent of the non-grain ingredients used in the country. AFIA is also recognized as the leader on international industry developments, and holds membership in the International Feed Industry Federation (IFIF).