The information below has been supplied by dairy marketers and other industry organizations. It has not been edited, verified or endorsed by Hoard's Dairyman.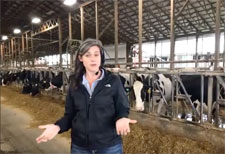 With a computer, webcam and microphone, teachers and students joined a virtual tour of a Michigan dairy farm. They saw cows, toured barns and milking parlors and learned directly from real dairy farmers how milk and dairy foods get from the farm to their schools.
Using video conferencing technology, these virtual farm tours, provided through the United Dairy Industry of Michigan (UDIM), allow students to interact and have real conversations with dairy farmers while the farmer is on their dairy.
Green Meadow Farms, Walnutdale Family Farms, Swisslane Farms and Ritter Dairy Farm have hosted live tours, connecting with students and teachers in classrooms. Together, more than 440 classrooms have tuned in, reaching nearly 10,000 students.
Jacalynn Buza, a second-grade teacher at Emerson Elementary School in Owosso, said, "My students enjoyed watching the virtual dairy farm tour, and I appreciated how the tour tied into my curriculum. The tour allowed students to see the habitat in which the calves live and learn how the needs of calves are met in their habitat. The farmer also gave students many examples of the products or goods cows help provide and how we as the consumers have access to those products."
"These virtual farm tours help dairy farmers share their story with our youth who have impressionable young minds," said Jolene Griffin, Director of Industry Relations at UDIM. "Virtual farm tours are an effective way to show the care farmers provide their cows and land, along with their commitment to produce high-quality dairy foods for families to enjoy."
"We made sure the virtual farm tours fit into the current school curriculum," said Amiee Vondrasek, UDIM Youth Wellness Manager. "As a former educator, I was able to draw from my past 20 years of experience and work with an elementary teacher to make sure we met the standards for the curriculum. That way, teachers could develop their lesson plans for the day to ensure a fun experience for the students. Our work on the front end made the virtual farm tour a worthwhile experience for teachers and students. The end result was that everyone learned where their dairy foods come from."
When asked, "What is your opinion of dairy farming after participating in the trip?" a high majority of teachers said, "very positive" or "positive." For more information or to view one of the virtual farm tours, visit https://www.milkmeansmore.org/virtual-farm-tour/.
About UDIM:
The United Dairy Industry of Michigan is the umbrella organization for the Dairy Council of Michigan and the American Dairy Association of Michigan. On behalf of Michigan's dairy farm families, these non-profit organizations provide science-based nutrition information to, and in collaboration with, a variety of stakeholders committed to fostering a healthier society, including health professionals, educators, school nutrition directors, academia, industry, consumers and media. For more information, visit
MilkMeansMore.org