The information below has been supplied by dairy marketers and other industry organizations. It has not been edited, verified or endorsed by Hoard's Dairyman.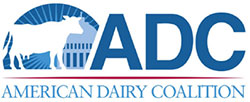 ADC has been working closely with legislators on The Farm Modernization Act, and while we still need to see the final language, we are excited to see that a Certified Agriculture Worker Program (CAW) may be included for the dairy industry to utilize.
The CAW would provide a legal avenue for workers who are already employed in the ag-sector to continue working and filling important roles on their dairy operation while also giving employers the peace of mind that their employee has been vetted and is fit to continue working in the U.S.
ADC is excited to work on both sides of the aisle in the House of Representatives for a viable solution to labor shortages in our industry, however, this bill is not perfect and we are continuing to work on improvements.
Certified Agriculture Worker Program Work (CAW)
The CAW is eligible to any worker who has been employed by the ag-sector during the 2 years prior to the introduction of this bill (providing they pass their background check requirements)
CAW status is available to primary workers as well as their spouses and dependent children
CAW status is granted to participants in 5 year increments that may continuously renew until they are no longer fit to work in agriculture
The Farm Workforce Modernization Act will also modernize the H-2A program, allowing for the dairy industry to access full time workers through this visa type, providing an avenue to assist farm workers in achieving legal status.
ADC has been hard at work providing details on what dairy producers need in a visa program to provide a reasonable and realistic solution to the severe labor shortages so many farmers across out nation are experiencing. The ADC Board of Directors will take a formal position on this important proposed legislation as soon as the final language is released and reviewed.
Find additional details here:
Farm Workforce Modernization Act