I was fortunate to have my sister, Megan Carey, spend her Thanksgiving holiday with us in St. Louis. We grew up on our parents' dairy farm in Florida, and both stayed in the dairy industry albeit without milking our own cows. I decided to interview her for this month's blog to show another way one's career can serve the industry we love.
Where do you live now? I live in Ixonia, Wisconsin.
What is your job title? I am an animal nutritionist and calf and heifer specialist for Insight Fs, a large cooperative.
What's a "typical day in the life" in that role? I spend a lot of time on farms. I walk through all areas of the farm and offer advice on how to become more efficient. It could be directly related to nutrition or it could be an area such as cow comfort.
What did you study in college? I studied agriculture business with an emphasis in communications and marketing at the University of Wisconsin-Platteville.
Did your current role require additional training? I learned a lot on the job. Ration balancing was something I had to learn and is also very different for each farm. Each farm has different goals, facilities, and resources. So, it's a job for continuous learners!
What's the favorite part of your job? Hands down, my customers. The families I get to work with and share in the successes with is my favorite part.
Did you always know you wanted to stay in the dairy industry? I wouldn't say I always knew, I actually changed my major at one point in my college career because I said, "I'm not going to be a nutritionist." It's funny how life works.
What's your favorite memory/greatest source of pride from growing up on a dairy farm? I don't know if I have a memory that sticks out, but I do know I love being able to tell people that my family has a dairy and sharing my agriculture story. So many people don't know or understand what that means or the work or passion involved. If you want to know the definition of resilient or find an eternal optimist, meet a farmer.
What's your favorite dairy breed? Holstein. (This surprised me, as Megan always loved her Jerseys growing up!)
In your eyes, what's the hardest part about being a dairy farmer? The hardest part: I think the toll it takes on your entire family. It's long hours away from your children and family. It's telling your spouse you can't make it to your dinner date in town because someone didn't show up to milk or because something broke down. Farming isn't just a job that you get to clock out from. It means chasing heifers on Christmas Eve and ruining your nice church clothes because you had to check cows on the way home.
In your eyes, what's the most rewarding part about being a dairy farmer; what makes the hard days worthwhile? I think being able to raise your family on the farm is the most rewarding. Having your family close and raising children in an environment where they witness hard work, dedication, and where they have an opportunity to be involved in centuries-long traditions is a powerful thing.
Any advice you would give to someone wanting to stay in dairy but not necessarily have a farm themselves? Look into your options. There are a lot of companies that look for hardworking employees from a farm. There are so many companies that rely on farmers. It's not too difficult to be involved in the agriculture industry at some level. If you want to work outside of the industry but still have a connection, the Farm Bureau is a great way to do that.
---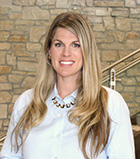 Erin Massey is the product development manager at Prairie Farms, a farmer-owned cooperative based in Edwardsville, Illinois. She is responsible for overseeing all aspects of the development process, from concept to commercialization. Erin grew up on a Florida dairy farm and has a deep-rooted passion to invigorate the dairy industry. Erin earned a bachelor's degree in chemical engineering from the University of South Florida. Her personal mantra is "Be Bold."