The information below has been supplied by dairy marketers and other industry organizations. It has not been edited, verified or endorsed by Hoard's Dairyman.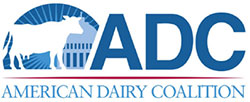 The Farm Workforce Modernization Act (H.R. 5038), sponsored by Dan Newhouse, R-Wash. and Zoe Lofgren, D-Calif., will head to a vote in the U.S. House of Representatives Wednesday, Dec. 11th. In late November, the Act passed the House Judiciary committee on a near party-line vote of 18 to 12.
Of noted importance, agricultural workers in the United States have an avenue by way of this bill to earn legal status through continued agricultural employment by utilizing 5- year renewable agricultural work visas. This bill also seeks to improve the H-2A Program by allowing dairy operation employers to utilize it. Currently, the H-2A can only be used for seasonal workforce.
ADC is asking you to contact your congressional delegation immediately and ask them to support this bi-partisan bill. We can no longer function without the necessary workers required to take care of our animals and tend to our crops.
It is urgent this bill is passed on Wednesday!
Don't delay, contact your legislators using the link below. Tell them it is vital to move the Farm Workforce Modernization Act (H.R. 5038) through the House!
H.R. 5038 Includes:
Earned Legalization for Certified Agricultural Workers:
A merit-based immigration program for our current dairy workforce, based on past and future work commitments.
It includes a strong bio-metric security component for the current and incoming dairy workforce.
Prohibits access to social safety net programs.
Allows workers, their spouses and minor children to earn legal status.
Qualified applicants are provided 5-year renewable visas.
Individuals have the opportunity to, but are not required to, earn Legal Permanent Resident status.
Improving the H-2A Program
Improves the H-2A Program by allowing full-time dairy workers access.
Allows agriculture employers access to a legal workforce when they need it.
Creates efficiencies in the processing of applications.
Mandatory E-Verify for the Agricultural Sector
Establishes a mandatory, nationwide E-Verify system for all agricultural employment.
Improves the current E-Verify program with a structured phase-in and guaranteed due process for authorized workers who are incorrectly rejected by the system.