The information below has been supplied by dairy marketers and other industry organizations. It has not been edited, verified or endorsed by Hoard's Dairyman.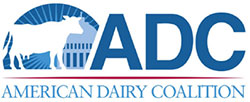 The U.S.-Mexico-Canada Agreement (USMCA) is predicted to pass the Senate very soon, according to White House trade adviser Peter Navarro.
Today, the Senate Finance Committee approved the USMCA on a bi-partisan vote of 25 to 3. This sets the trade deal on a potential pathway of being called to the floor for fast-track legislation, which would bring it to a 20 hour maximum before the vote.
The USMCA passed the House in a largely bipartisan fashion a few weeks ago. It is expected to bring key changes to Canada's pricing system for milk ingredients and opens the Canadian dairy market to increased U.S. exports. Further, the trade deal will strengthen the relationship with Mexico. It is anticipated that this agreement will further U.S agriculture exports by $2 billion, which will result in an estimated $65 billion increase in gross domestic product.
American Dairy Coalition CEO, Laurie Fischer expressed enthusiasm for the noted progress by stating, "U.S. Dairy Farmers have long-awaited movement on these trade discussions. We're eager to see final passage of USMCA and anxious for the benefits of these trade deals to reach our farmers."
Furthering trade discussion, Navarro noted the scheduled Jan. 15th signing of the phase one deal with China.
About The American Dairy Coalition:
The American Dairy Coalition (ADC) is a farmer-led national lobbying organization of progressive, modern dairy farmers. We focus on federal dairy policy. For more information, contact CEO Laurie Fischer at 920-965-6070.