This time of year can seem rather melancholy, especially if you live in a state that experiences winter conditions. The holidays are over, the colorful lights have been taken down, and many days are dreary and cold. Growing up in Florida, I didn't realize the "winter blues" were real. The lack of sunshine and vitamin D truly can affect one's mood. Now that I've spent winters in the Midwest, I fully understand why so many retirees spend their winters in the Sunshine State!
I am a long way from retirement and moving south for a few months of the year is not an option. I want to find enjoyment in these months where it can be more difficult, so I've made that my resolution this year. Time is going to pass no matter what, and when it's filled with only the mundane, it is not going to be very memorable or exciting. Thus, I have resolved to make "noticing" a priority this winter.
The winter blues tend to zap motivation. Putting on layers of clothes and trying to get out the door can seem daunting, especially when you have young children to bundle up. One of my strategies to overcome this issue is to think of my future self rather than my experiencing self, as author Laura Vanderkam likes to describe it. Right now it may seem exhausting to attend the local high school's basketball game, but attending that game will create memories and make that time meaningful. It will allow me to notice that cold January night so it won't just pass in a blur with the rest.
Leaving home for activities is not going to happen most nights, so we are also trying to make the low-energy, routine nights somehow special. Planning a game of "Go Fish" for Thursday night gives everyone something to look forward to and no coats or tickets are required. Likewise, have you noticed that winter has the most beautiful sunsets? My 5-year-old and I imagine that the angels are eating cotton candy when the sky is filled with vibrant pink and blue hues.
I cannot tell you much about what happened in January and February 2019, but I resolve to have this month and next fill much more of my recollection. Time can expand and be fulfilling, it just requires us to be intentional. I know I need to plan it now so I will do it later. We will remember it always.
---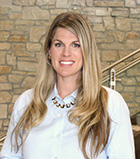 Erin Massey is the product development manager at Prairie Farms, a farmer-owned cooperative based in Edwardsville, Illinois. She is responsible for overseeing all aspects of the development process, from concept to commercialization. Erin grew up on a Florida dairy farm and has a deep-rooted passion to invigorate the dairy industry. Erin earned a bachelor's degree in chemical engineering from the University of South Florida. Her personal mantra is "Be Bold."