The information below has been supplied by dairy marketers and other industry organizations. It has not been edited, verified or endorsed by Hoard's Dairyman.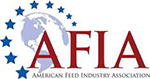 The American Feed Industry Association (AFIA) commends and congratulates the administration on the signing of a historic phase one trade agreement with China. The U.S. animal food manufacturing industry faces a number of challenges in this market, including those which have restricted any new U.S. feed additive and premix products to be exported to China since 2011 and those which restrict U.S. feed products with ruminant-origin ingredients and a number of poultry-derived ingredients. This agreement directly addresses these constraints by streamlining and facilitating a facility registration process for feed additives, premixes and compound feed, as well as lifting the poultry and ruminant ban for animal food products. AFIA looks forward to working with industry and the appropriate U.S. government agencies to facilitate implementation.
AFIA's president and CEO Constance Cullman stated the following: 
"Addressing the non-tariff barriers that challenge our industry in the Chinese market has been a top priority for AFIA for nearly a decade. I am very excited about what this agreement means for the U.S. animal food industry and reopening the Chinese market for our products. I'm grateful for the hard work and enduring efforts of our trade negotiators on our behalf and the administration as a whole for defending the enhancement of productive trading relationships and supporting U.S. businesses and exports."
AFIA's Chairman Tim Belstra stated the following:
"Representing AFIA and its members today at this historic signing was a stark reminder of the importance of trade and opening markets for our industry. I am elated by what this agreement represents for our industry and the many exports it will facilitate as a result. This is indeed a landmark opportunity not only for the U.S. animal food industry, but also for the livestock and poultry industries in China to further expand their feed ingredient inputs and technology."
About AFIA
Founded in 1909, the American Feed Industry Association (AFIA), based in Arlington, Va., is the world's largest organization devoted exclusively to representing the business, legislative and regulatory interests of the U.S. animal food industry and its suppliers. The organization's membership is comprised of more than 680 domestic and international companies that represent the total feed industry—manufacturers of commercial and integrated feed and pet food, ingredient suppliers, pharmaceutical companies, industry support and equipment manufacturers. AFIA members manufacture more than 75 percent of the feed and 70 percent of the non-grain ingredients used in the country. AFIA is also recognized as the leader on international industry developments, and holds membership in the International Feed Industry Federation (IFIF).