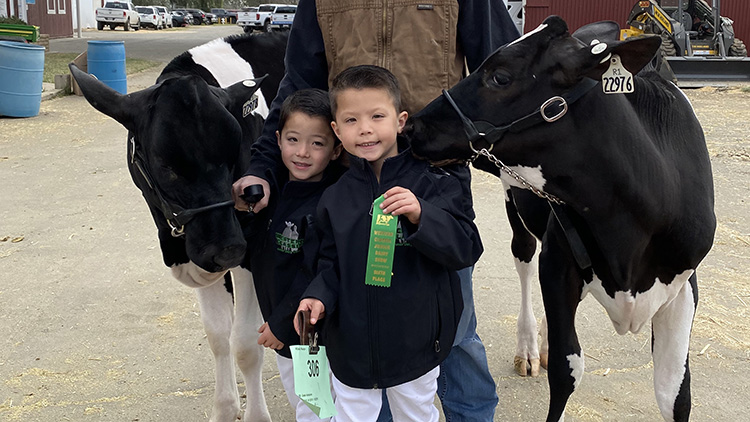 We did it, although I'm still in a little bit of shock. We made it to the Western Classic dairy cattle show in Hanford, Calif.
With five little kids and five heifers in tow, we set sail to their first cattle show ever. Honestly, it was my first show in over 12 years, so I was a bit nervous myself. It was the culmination of months of preparation and hard work, and the time had finally come. What we learned from the experience was second to none.
As we pulled on to the show grounds, you could tell this was no county fair. This show was different. The people that were there came because they love the experience and want others to feel the same. We set up shop in what could only be described as the perfect spot. With three campers, we filed in and prepped for a long weekend.
I would be lying if I said I wasn't tired after it all. I'm not really sure how much we actually slept, but what I do know is that I don't regret a single minute. The boys who we brought did amazing. They worked so hard to get there and they rocked it in the ring, but that was only the beginning.
After their time in the ring is when the real experience began. We were fortunate to be one of the first classes each day, which gave the boys and the parents the rest of the day to socialize and get to know one another. Throughout the day, the kids learned so many things. They played hard and sometimes fought, but at the end of the day, they would sit on the same bench and eat a meal together. These boys may not see eye to eye all the time, and you may see them "duking" it out from time to time. One thing is for sure, though — you will never get in between them. They have each other's backs.
It's funny how life experiences shape who you are, the company you keep, and the skills you learn. This weekend was no different. The boys learned how to manage stress, be courteous to others in a foreign setting, and how to stick together when things got tough. These boys showed us all that they have the grit to handle what life throws at them and even more so when they work together.
As parents, we couldn't be more proud.
There are so many things being learned and experienced at these shows that sometimes gets overlooked. So, to those who organize shows like these, thank you. We all appreciate it.
---

Tyler Ribeiro is a fourth-generation dairy farmer born and raised in California. He is currently partners with his father at Rib-Arrow Dairy in Tulare where they proudly ship their milk to Land O'Lakes. Tyler is actively involved in the dairy industry, holding leadership roles in various organizations locally and across the United States.