The information below has been supplied by dairy marketers and other industry organizations. It has not been edited, verified or endorsed by Hoard's Dairyman.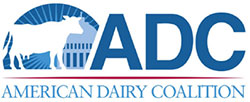 If you live in any of the above mentioned states it is crucial you reach out to your Member of Congress (additional details below). Your action is needed to maintain these funding prohibitions.
Without these important language prohibitions added in Sec 437 & SEC 438, farmers will be required to submit reports to the government estimating their greenhouse gas emissions (GHG).
Sec 437: Stops funding to be used to promulgate or implement any regulation requiring the issuance of permits for farmers under title V of the Clean Air Act.
Sec 438: Does not allow funding to be used to implement any provision in a rule, if that provision requires mandatory reporting of greenhouse gas emissions from manure management systems.
According to EPA's Emissions Inventory, emissions from livestock manure management systems account for less than one percent of total GHG emission in the United States.
Requiring individual farmers to estimate emissions from their operations will yield uncertain and unreliable data. Available technology does not allow farmers to accurately measure methane emissions. If farmers are mandated to comply with reporting of GHG emissions, inaccurate data will be sent to the federal government and may be used as an additional regulatory burden.
(Click on the names below to be directed to their web page where you will find their contact information)
· Betty McCollum, Chair (MN 4th Congressional District)

· Chellie Pingree (ME 1st District)

· Derek Kilmer (WA 6th District)

· José Serrano (NY 15th District)

· Mike Quigley (IL 5th District)

· Bonnie Watson Coleman ( NJ 12th District)

· Brenda Lawrence (MI 14th District)

· David Joyce, Ranking Member ( OH 14th District)

· Mike Simpson (ID 2nd District)

· Chris Stewart (UT 2nd District)

· Mark Amodei (NV 2nd District)
Your legislator needs to understand:
Gathering GHG data from individual producers is unnecessary because it is already being generated by the federal government.
Agriculture producers assume unnecessary liability by giving estimates to the federal government
Maintaining these funding prohibitions builds upon a decade of bipartisanship