As farmers, we're uniquely fortunate when it comes to being quarantined for long periods of time. I don't know about you, but before it was encouraged or legally enforced, I used to spend weeks on the farm without leaving. We're about two weeks into what I think is going to be at least a month-long quarantine, and people are already losing their minds.
There's a lot of panic, fear, and anxiety; for good reason! As a millennial, I know that this virus may mean nothing for me, but there are people that I love that either wouldn't recover or at least wouldn't recover well. While we're operating business as usual, most of the country has come to a screeching halt. Because of that, I've been noticing some changes.
People are actually appreciating us. There aren't a lot of essential job categories on that list. Medical personal, sanitation workers, emergency responders, and farmers. Celebrities are posting memes thanking farmers (see photo above).
Quick, someone pinch me. Like, am I dead?
Milk, bread, eggs, and other essential foods are flying off the shelves and people are starting to think about where they come from and who produces them. Our milk plant is processing twice as much milk as usual to keep up with the demand. A challenge has presented itself and farmers are rising to the occasion.
People are bored and spending more time on their phones. Maybe they're following hashtags they wouldn't usually follow and digging deeper into threads than ever before. If you've been considering diving into the world of advocating on social media, why not now? Talk about your farm and your animals or make people laugh. Pro-tip: people love baby cow photos.
Show people how to freeze a gallon of milk or make butter from heavy whipping cream. Post recipes! More people are probably cooking dinner right now than they would normally cook all year. Put some positivity out into the world, we're looking for some right now. I know that this is bad, and I'm afraid it's going to get worse before it gets better. But I genuinely hope that people come out of this disaster with a sense of unity and family. It's pretty unique that so many people are experiencing the same phenomenon at the same exact time.
Whatever you decide to do, don't feed into the fear. It's all well and good for you to joke to a farmer friend about how "farmers are immune because we vaccinate our cows for coronavirus," but it's a whole different story when someone who doesn't know any better reads your post and believes it. When their grandma dies because they thought they were immune to COVID-19 because they drank a whole gallon of milk yesterday and didn't take the suggested precautions, will you still be laughing?
---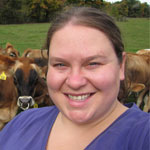 The author dairies in partnership with her parents and brother at Spruce Row Farm in Pennsylvania. Jessica is a graduate of Pennsylvania State University, and since 2015, she has been active in promoting dairy in her local community. You can find her and her 250 Jersey cows on Facebook at Spruce Row Dairy or on Instagram at @seejessfarm.