I hate watching the news. But the other day, I was stuck watching the news and I literally shuddered at all the depressing stuff going on in the world right now. But here's the thing, amongst all the scary things, there is so much good. So, if you need some good, if you need a reminder of how amazing people can be, keep reading. Because if you look for it, the good is always there.
Globally, good acts are going viral. Have you seen the video of policemen in Spain lining the streets surrounding a hospital flashing their lights in tribute? It gave me goosebumps. Or how about the makeshift parade lining a girl's trip home from her last chemotherapy treatment? I've seen dozens of videos and photos of people standing outside the window of their loved ones in nursing homes or parades of teachers visiting their kid's neighborhoods because they never got to say goodbye. How about schools following through with making lunches for kids who rely on them. In the middle of chaos and horror, there is beauty.
I recently asked members of an online Facebook group I'm in to tell me something good. These are farmers and those who support farmers doing a little bit of good for their people and communities. Some of these acts were as simple as paying for the car waiting behind them at Starbucks or lighting the star on the top of the silo at night to help give those around them hope. Some are donating dairy products, even frozen pizzas, to food banks or picking up grocery orders and delivering them to high risk individuals in their neighborhood. With packing plants starting to close and meat flying off grocery store shelves, one farmer is hand delivering beef to people in her community. One Wisconsin creamery has a Kindness Cooler outside of their store, filled with dairy products for anyone who needs them.
This isn't just another annoying thing to get through. How many events in our lives will affect the entire world at virtually the same time? And to top it all off, we can't even leave our homes or see the people we love to take our minds off it. So, we're anxious and scared. We're lost and exasperated. And in times like these, something as small as two kids picking dandelions to leave on the milk haulers truck steps then waving at him from a distance can change his entire day. Be that person. Make someone smile today.
Lastly, I can't gush enough about the medical professionals fighting this fight. They're literally running into fires for us and the people we love. They're sacrificing their families and themselves to take care of individuals who may never give them the credit they're due. And they're doing it knowingly. Be the person who picks the dandelion. Thank the doctors and nurses and maybe only buy one gallon of milk so the person behind you can buy one, too. For a nation full of people who are notoriously selfish, it's time for us to think about each other at least as much as we think about ourselves. Stay safe out there!
---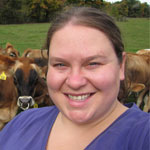 The author dairies in partnership with her parents and brother at Spruce Row Farm in Pennsylvania. Jessica is a graduate of Pennsylvania State University, and since 2015, she has been active in promoting dairy in her local community. You can find her and her 250 Jersey cows on Facebook at Spruce Row Dairy or on Instagram at @seejessfarm.