The information below has been supplied by dairy marketers and other industry organizations. It has not been edited, verified or endorsed by Hoard's Dairyman.

Calves encounter metabolic and digestive issues as they change environments, make the transition off a milk diet and experience other stress events. Providing fluids and supplementing with high-quality electrolytes, and energy sources will help calves through periods of scouring. In addition, it is critical to fight the scours-causing agents and return the gut environment to better stability.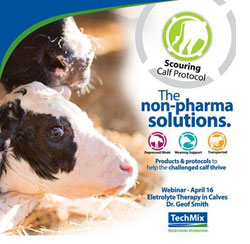 TechMix offers the calf raiser supplementation programs addressing scours, dystocia, weaning and transport challenges that are designed to help calves thrive. Our non-pharma products include electrolyte therapy solutions that can help rehydrate, buffer and inhibit harmful bacteria—all essential steps toward scours and metabolic acidosis recovery.
In this webinar, Geof Smith, a professor of ruminant nutrition in the department of population health and pathobiology at North Carolina State University, will share science-based requirements for selecting oral electrolyte solutions and recommended protocols for recovery.