The information below has been supplied by dairy marketers and other industry organizations. It has not been edited, verified or endorsed by Hoard's Dairyman.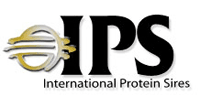 International Protein Sires (IPS) realized great progress with their Holstein lineup resulting from the April sire summaries. The greatest achievement was the Grand Slam scored by four new genomic proven sires. "We are pleased with the genetic stature of our Holstein lineup resulting from the April base change. The addition of new genomic proven sires was especially rewarding. We have strived to develop genetics that assure dairy farmers of high performing and durable cattle. The recent sire summaries are proof positive of this objective," stated Ron Sersland, President and CEO.
566HO1332 WHY NOT leads the Grand Slam group at +2892 GTPI. This ranks WHY NOT #153 on the Holstein Association's TOP 200 GTPI List. WHY NOT is a true testament of high performing, durable cattle advocated by IPS. His commendable performance is +1,071 lbs. milk, +.06% fat and +.02% protein. Conformation traits are equally notable; +1.60 type, +1.92 UDC and +2.14 FLC. These quality stats are backed by strong health traits; +7.3 productive life and +972 DWP$ along with +727 NM$. WHY NOT's daughter pregnancy rate at +1.6 adds further impact to this breed leader. Sired by Solution, WHY NOT is from a Very Good two year old daughter of Frazzled.
566HO1328 DONZINO is among the Grand Slam introductions at +2890 GTPI. DONZINO's sterling performance and superior confirmation ranks him #158 on the Holstein association's Top 200 GTPI listing. Production is excellent at +1,431 lbs. milk, +79 lbs. (+.08%) fat and +50 lbs. (+.02%) protein. And, functional traits ring supreme; +1.53 type and +2.18 UDC. Rated A2A2, DONZINO achieves more with productive life at +4.0 and calving ease at 6.1%. DONZINO descends from a cow family loaded with great credentials. His dam is a promising daughter of Helix while is sire is Rio.
566HO1331 CAMDIN joins the IPS Grand Slam leaders at +2864 GTPI. An excellent components sire, CAMDIN is +90 lbs. (+.17%) fat and +48 lbs. (+.06%) protein. This added value for solids comes with +1,026 lbs. milk improvement. Additional CAMDIN qualities include; A2A2, +5.8 productive life, and +746 NM$. CAMDIN is backed by a maternal family with multiple generations of Excellent and Gold-Medal dams. Sired by Crimson, CAMDIN is from a young and developing daughter of Frazzled.
566HO1326 MILKNMORE rounds out the Grand Slam hitters at +2814 GTPI. High production and superior components clear the homerun fence with this great slugger. MILKNMORE is the #3 bull of the breed for milk at +2,674 lbs. and protein at +82 lbs. And, his combined components are +157 lbs. Type registers a notable level at +0.92. Added attributes include A2A2 along with productive life at +4.5. His sire is Milktime, an appropriate name for MILKNMORE. The dam of MILKNMOPRE is a VG-86 daughter of Josuper that produced 42,500 lbs. milk at one year, ten months.
These new Grand Slam genetics at IPS are testament to progressive sire development. And, these balanced performing sires fulfill the requirements of dairy farmers around the world. IPS semen is available worldwide through IPS employees and independent distributors. Located in Rock Springs, Wisconsin, you may obtain additional information about IPS through their website, www.ipssires.com or by calling toll free: 1.800.542.7593