Ever had a plan for the week? Ever had a week that actually went according to that plan? It's a familiar feeling for dairy farmers; this need for flexibility. Throw in being completely at the mercy of Mother Nature and nothing ever seems to happen exactly as intended.
This past Sunday we were finally able to cut hay. After a couple of glorious weeks of rain, the break in the weather was really needed. A solid week of sunshine was forecasted. So of course, guess who is working hard to bale hay today before a now imminent rain shower?
Sometimes our weeks are accompanied by surprise extra projects to accomplish. Typically, those extra projects find their own way of complicating things. Maybe it's a down cow or a calving issue, or if you want a usual group to blame for upsetting plans, count on the heifers to break a fence.
I'll admit that I'm a planner. I like to take a look at what needs to be done for the week and try to have a plan of execution. It just seems to help keep everything on track, but very rarely does the plan ever go completely like it should.
Lots of times when we make the plan for the week on our farm, we have a good laugh and take bets on what we'll actually accomplish. Somehow, it's good to be able to find the humor in the flexibility that is needed in farming. If anything, that stretching and preparation for the week may help keep you from going crazy.
---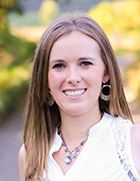 The author is a third-generation dairy farmer from Oregon where she farms in partnership with her husband and parents. As a mother of two young boys who round out the family-run operation as micro managers, Darleen blogs about the three generations of her family working together at Guernsey Dairy Mama. Abiqua Acres Mann's Guernsey Dairy is currently home to 90 registered Guernseys and transitioned to a robotic milking system in 2017.