The information below has been supplied by dairy marketers and other industry organizations. It has not been edited, verified or endorsed by Hoard's Dairyman.

The American Feed Industry Association congratulates Christiane Girard, Ph.D., of Agriculture and Agri-Food Canada, for receiving the 2020 AFIA-American Dairy Science Association (ADSA) Nutrition Research Award. The associations recognized Girard during the virtual ADSA annual meeting earlier this week.
Created to honor outstanding research in dairy cattle nutrition, the award recognizes an individual who has made a worthy contribution to dairy cattle nutrition research within the 10 years immediately prior to the year of the award.
Girard is a research scientist at the Sherbrooke Research and Development Centre, Agriculture and Agri-Food Canada. Her work on B vitamins has challenged the generally accepted concept that dairy cows' vitamin requirements for B vitamins do not have to be taken into account because their synthesis by the rumen microflora is sufficient to prevent deficiency symptoms. Her work has made an outstanding contribution to improving the estimations of supply and requirements of B vitamins. In a perspective of precision farming to optimize metabolic efficiency, meeting dairy cows' requirements for B vitamins cannot be overlooked.
"Dr. Girard's work with B vitamins has clearly led the path and made a tremendous impact on the dairy industry," said Paul Davis, Ph.D., AFIA's director of quality, animal food safety and education. "Her passion and dedication toward improving dairy nutrition made her a great choice for this year's award."
Previously, she served as an associate professor with the Department of Animal Science and Faculty of Agricultural Food Science at Laval University in Canada.
The recognition is sponsored by AFIA as part of its ongoing awards program that began in 1948. To date, 73 people have been awarded the dairy science nutrition award.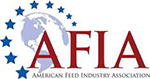 About AFIA
Founded in 1909, the American Feed Industry Association (AFIA), based in Arlington, Va., is the world's largest organization devoted exclusively to representing the business, legislative and regulatory interests of the U.S. animal food industry and its suppliers. The organization's membership is comprised of nearly 700 domestic and international companies that represent the total feed industry—manufacturers of commercial and integrated feed and pet food, ingredient suppliers, pharmaceutical companies, industry support and equipment manufacturers. AFIA's members manufacture more than 75% of the feed and 70% of the non-whole grain ingredients used in the country. AFIA is also recognized as the leader on international industry developments, and holds membership in the International Feed Industry Federation (IFIF).