The information below has been supplied by dairy marketers and other industry organizations. It has not been edited, verified or endorsed by Hoard's Dairyman.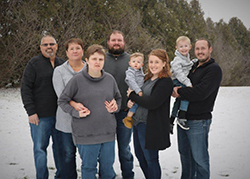 The Brown Swiss Cattle Breeders' Association recently recognized Hilltop Acres Farm of Calmar, IA as the recipient of three National Awards for their Brown Swiss dairy herd. The family, Dennis and Barb Mashek along with their sons, Josh and Tanner, milk 400 registered Brown Swiss three times a day. The passion for Brown Swiss runs deep in this family as Dennis and Barb's grandchildren will be the 8th generation of dairy farmers. According to Dennis, the fat to protein ratio; longevity; sound feet and legs; as well as their temperament are the best-selling reasons to own a brown swiss.
The Mashek family received the Ira Inman PTPR Trophy, which is based on a total progressive dairy program including breeding, feeding and management. Winners are determined by assigning point values to protein, butterfat, milk, classification, percentage records received and number of years on DHIR official test. This award has four divisions based on herd size. The Mashek's fall into Group 4, milking 100+ registered Brown Swiss cows.
Tanner Mashek's cow, Spring Acres Joel Petra, was awarded J.P. Eves Trophy. This award is given to the highest 305-day actual milk record of all DHIR records received during 2019 regardless of times milked. His cow, Petra, was recorded at 5-03 305d 3x 42,100m 5.7% 2,414f 3.5% 1,465p. This is the second year in a row that one of Tanner's cows has earned this award.
Dennis Mashek's cow, Hilltop Acres Cad Angel, was awarded the White Cloud Award. This award is presented to the cow that has calved at 1-11 or less with the highest 305d ECM record completed in 2019 regardless of times milked. Mashek's cow recorded 1-11 305d 3x 30,430m 4.6% 1,410f 3.2% 984p ECM: 35,737m. This is the second year in a row that Dennis has won this award with one of his cows.
Dennis strongly believes that milking his cows three times a day is the reason for his cows having high production. "We strive for cow comfort," says Dennis and he attributes that as the reason they are still milking 10 or so cows between the ages of 10-15 years old.