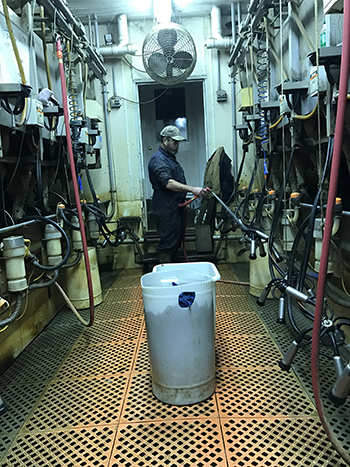 "How do you get through the days you don't want to be at the dairy anymore?"
I wasn't even slightly surprised to get this question from a fellow dairy farmer on Instagram earlier this week. The burnout is real.
This year, Fourth of July fell on a Saturday. A lot of states were starting to relax the quarantine restrictions, it was crazy hot, and it seemed like every single person was at a lake, in a pool, or barbecuing. Guess what I was doing? Farming. I've grown up in dairy farming, so I know the deal. On holidays we work harder because we give most of our hired help the day off.
Over the years, it's been easier to accept, but on July 4, 2020, I was bitter. Suddenly, I was a teenager again. All my friends were taking vacations and going to summer camps while I was missing all the fun. And even worse, I wasn't quiet about it. Every story I posted on Instagram showed a hint of disdain in my voice. I was jealous and upset, and I wanted the world to know about it.
So, how do I get through the days I don't want to be at the dairy anymore? The short, blunt answer is that I cry in the calf barn. I won't lie, it happens a few times a month and usually makes me feel better. All the emotions come out. The exhaustion, the soreness/pain, the complete lack of appreciation, and the never-ending guilt about everything. Letting it out is okay. It's healthy, and it's necessary.
The longer answer is different for everyone. I milk every morning, and sometimes just one morning off can help. Not even off, just a morning where I do something other than milk cows. Ask for a few days off, even if you don't have anything planned. Maybe you just stay home and recuperate or spend time with your family.
I don't know if my parents ever felt this way, but social media has made the jealousy and bitterness much harder. So I'll just say it, I have unfollowed or muted some of my friends on social media. It's nothing they've said or done. I don't hate them and will unmute them eventually, but for me right now, I need a break. I need to take the time to deal with my issues, and seeing their fun vacations and frequent downtime isn't helping.
I don't know what the answer is for you. For me, some days, the answer is as simple as listening to my favorite playlist all day on repeat or bingeing too many episodes of my newest Netflix obsession. What I can say is that you need to deal with it before it consumes you and affects everything in your life, particularly the people you love. You can't be okay for them if you're not okay for you.
---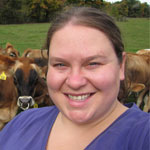 The author dairies in partnership with her parents and brother at Spruce Row Farm in Pennsylvania. Jessica is a graduate of Pennsylvania State University, and since 2015, she has been active in promoting dairy in her local community. You can find her and her 250 Jersey cows on Facebook at Spruce Row Dairy or on Instagram at @seejessfarm.