Today on Facebook, one of the nicest people I know shared a very political post. I cringed as I read it, and then I unwisely skimmed through the comments. The response was awful. After one bad comment came an equally awful comment in response and so on and so forth. Friendships were being broken — over a meme. These weren't just random commenters, either. Both sides of the argument involved people I know and respect or used to respect. Because that's where we are now. I feel like I'm 6 years old again, refusing to give my brother my popsicle, so he pushed me to the ground and stole it. We all thought that COVID-19 would be the worst thing to come out of 2020, although I'm afraid we've lost so much more.
However, for two months this summer, my faith in humanity was restored. In June, Becca Hilby, Tara Vander Dussen, Hannah Lund, Bec Shaw, and I started a fun competition on Instagram to raise money for Feeding America. We called it Milk Flip Cup and started with 16 competitors in a March Madness-style tournament. It was amazing. All types of farmers participated in the name of charity and entertainment. Companies saw what we were doing and reached out to us before we had even considered reaching out to them. First Defense Calf Health was our first sponsor, Key Apparel designed T-shirts and donated $4 from each sale, and then Diamond V offered to match the amount we raised, up to $10,000. By July 31, over 45 Instagram accounts with more than 800,000 followers had been involved and generated over 300,000 views. Thanks to our silly competition, which started with a goal of $1,000, we donated over $12,000 to Feeding America. Do you know why it was so successful? Community over competition. Though the players' competitive spirits certainly came out, we were all there to do some good and have some fun.
It's easy to get jealous of what others do or have, I know. Last year, my best friend got the opportunity to represent dairy farmers on "Good Morning America." I was crazy jealous! But at the same time, I was so happy that she had a national platform to promote dairy and show the world how awesome dairy farmers can be. We're allowed to be jealous of someone and still support them. We are physically capable of disagreeing while simultaneously respecting each other. Emotions are hard, but kindness doesn't have to be. Support your community and your community will support you.
---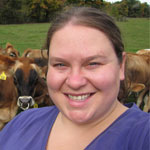 The author dairies in partnership with her parents and brother at Spruce Row Farm in Pennsylvania. Jessica is a graduate of Pennsylvania State University, and since 2015, she has been active in promoting dairy in her local community. You can find her and her 250 Jersey cows on Facebook at Spruce Row Dairy or on Instagram at @seejessfarm.