All across the country, stitched into the landscape between population centers, is where we find what people like to call "rural America." It's a vague term, yet everyone seems to know what it means. Perhaps most importantly, it's where the vast majority of our food is grown and harvested.
Farmers are well aware of the statistic that less than 2% of Americans are involved in production agriculture. Despite living off the fruit of these areas, only 17% of Americans even live in rural areas, according to the United Nations. Rural communities may often feel overlooked, and the challenges they face in areas such as healthcare and internet connectivity remain real.
This year has, instead, put the spotlight on rural America in a number of difficult ways. Food shortages during the pandemic opened people's eyes to the vulnerability of their food source and the people that produce it. COVID-19 swept through communities far from urban centers because they were home to their own dense populations — meatpacking plants. Rural communities struggled to meet the needs of a world newly turned virtual. Now, the virus is hitting more of the Midwest after ravaging the coasts earlier this year.
And of course, it's been impossible to ignore the pressure of this election year on these areas. Heavily agricultural states like Wisconsin, Pennsylvania, and Michigan have become battleground swing states, as well.
Will this attention on rural America keep up? Probably not at this level, and hopefully not in the context of surging virus infections. What exactly the future holds for rural communities remains to be determined.
What we do know is that there will always be a demand and a need for these places for the green space and food they produce, and they cannot be ignored. A recent survey found that 30% of Americans have purchased rural land in the last five years or intend to in the next five. Most of those with an intent to purchase come from urban and suburban areas.
Farmers continue to become more efficient in producing food with less land, but as our population grows, so will the need for food. Rural areas will be vital to meeting this need. No matter who is living in and building our rural communities, they will need the support and resources to make them thrive.
---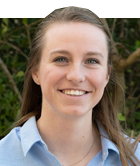 Katelyn Allen joined the Hoard's Dairyman team as the Publications Editor in August 2019 and is now an associate editor. Katelyn is a 2019 graduate of Virginia Tech, where she majored in dairy science and minored in communication. Katelyn grew up on her family's registered Holstein dairy, Glen-Toctin Farm, in Jefferson, Md.