The information below has been supplied by dairy marketers and other industry organizations. It has not been edited, verified or endorsed by Hoard's Dairyman.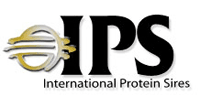 Following the December sire summaries, International Protein Sires (IPS) released a new wave of Holstein genetics. "We are delighted with the introduction of our latest genomic tested sires. These new genetics, with varied pedigrees, bolster our current sire lineup. And they add support to our objective of Breeding Cows, Not Numbers, stated Ron Sersland, President and CEO
566HO1341 BIG ORBIT leads the IPS wave of new genetics at +2923 GTPI. From the Holstein Association's prestigious Top 200, BIG ORBIT has sterling credentials. High components are standout attributes; +116 lbs. (+.31%) fat and +46 lbs. (+.08%) protein. Production improvement is commendable at +723 lbs. milk. BIG ORBIT achieves a balanced genetic offering with conformation traits at +1.26 type and +1.39 UDC. Additional qualities include productive life at +3.3 and DWP$ at $870. BIG ORBIT is the #2 Biggelo son in the top 200 TPI list. And his young, Very Good, dam is a Granite daughter. Worthy of note; BIG ORBIT's superior cow family is backed by six generations of Excellent dams, all with high component test.
566HO1342 COULD BE also emerges as a Top 200 sire at +2914 GTPI. This new genetic sire offers a complete performance package; +1284 lbs. milk, +99 lbs. (+.17%) fat, and +59 lbs. (+.07%) protein. COULD BE also racks up positive numbers for all type traits. Additional qualities include +5.8 productive life and +837 CM$. COULD BE is an Acura son. His young and developing dam is a Medley daughter from a solid cow family.
566HO1338 FAITH HEALS is unveiled at +2895 GTPI. Typical of IPS Holstein genetics, FAITH HEALS transmits excellent components with +66 lbs. (+.21%) fat and +40 lbs. (+.12%) protein. His sterling conformation ratings roll in at +1.77 type and +2.10 UDC. Productive life rates supreme at +5.9, while his daughter pregnancy rate shows +2.5. This new genetic package is sired by Try Me. And his dam is a young developing daughter of Battle. His pedigree is unique among today's Holstein sires. There is loads of admirable classification scores with high components.
566HO1339 MAKE HAY has the qualities to yield success. His +2813 GTPI is supported by a balance between performance and durability. At +1,166 lbs. milk, the value is enhanced by improved fat test (+.05%) and +60 lbs. MAKE HAY sires cattle that farmers enjoy working with as shown by his +1.83 type, +2.30 UDC, and +0.83 FLC ratings. He is the highest 100%RHC udder composite bull over +2811 GTPI. Additional traits that stand out include +5.4 productive life and 1.7% calving ease. The pedigree of MAKE HAY is stacked with reputable sires. A son of Magnitude MAKE HAY is from a Very Good daughter of Duke.
This new wave of Holstein genetics adds power to the IPS Holstein sire lineup. These transmitters of superior performance with durability meets the stringent requirements of dairy farmers worldwide. IPS semen is available throughout the world from IPS employees and independent distributors. Located in Rock Springs, Wisconsin, you may obtain additional information about IPS through their website, www.ipssires.com or by calling toll free: 1.800.542.7593