The information below has been supplied by dairy marketers and other industry organizations. It has not been edited, verified or endorsed by Hoard's Dairyman.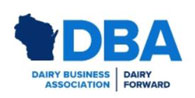 DBA is excited to announce that Amy Penterman was chosen for the leadership role today during the association's annual meeting. Tom Crave, who served as president since 2019, becomes president emeritus.

Amy was first elected to the board in 2017. She dairy farms at Dutch Dairy in Thorp with her husband, Sander, and also has a long career as a crop insurance agent.
She will be the first woman to lead DBA and has been an integral part of the group and a terrific representative of the dairy community. Amy was selected by then-Gov. Scott Walker to serve on the Wisconsin Dairy Task Force 2.0 in 2018 and 2019. That effort resulted in dozens of strategic recommendations to ensure dairy remains strong in our state long into the future.
Amy is passionate about DBA's mission — to empower our members to lead America's Dairyland forward by connecting with our communities and policymakers through advocacy, collaboration and continuous improvement.
"DBA's leadership is forward-thinking and focused on the success of farms of all sizes and business models. Members count on us to stand up for their interests in Madison and elsewhere and to provide them with other critical support. Our success lies with each and every farmer, and we must stay vigilant," she said.
The membership elected a newcomer, Spencer Frost, who runs Frost Farms, along with his brothers, in Waterford. Spencer has been involved in DBA policy advocacy efforts and we are looking forward to all that he will bring to the organization.
Lee Kinnard, an incumbent, was chosen as president-elect. He operates Kinnard Farms in Casco.

Greg Siegenthaler was re-elected and chosen to serve as secretary.

Paul Fetzer was re-elected.


Mike North's term as president emeritus ended.
Our other incumbents are Steve Bodart, who will remain treasurer; Kevin Collins; Bob Nagel and Jack Hippen.
There's plenty of optimism at DBA heading into 2021. We'll be working as hard as ever to stand up for our members. We're always proud to serve you and fortunate to have members that are so dedicated to the dairy community.