It's no secret that more and more farmers are feeling the call to share their lives on social media. As one of those farmers, I say it's a calling that you eventually can't ignore. I know, because I couldn't. I also know that the first step is the hardest — just doing it. Pick a name and start a page, profile, or account. It's been years since I started mine, but I remember all the negative thoughts and feelings. Why would anyone listen to me? What would I possibly have to say that everyone else isn't already saying? What if no one follows me? What if I fail?
Here's the thing, the only way you could possibly fail at telling your own story is to never tell your story.
Everyone starts out with zero followers, and we're all talking about the same things. The difference is that we all have our own way of saying it. You and I can both talk about antibiotics, for example, but we each have our own unique way of explaining it. Maybe I go into the different practices we use to reduce antibiotic resistance, but you talk about how antibiotics keep our cows healthy so that they produce a healthy product to feed your family. Whatever you say won't resonate with everyone who reads it, but maybe it's that lightbulb moment someone needs to hear.
Another pretty intimidating thing about social media is where to tell your story. To that, I say pick your social media poison. There's Twitter, Facebook, Instagram, Snapchat, TikTok, Reddit, YouTube, Clubhouse, and too many more. But we don't all have to share all the things on all the platforms. If you're comfortable on video, TikTok, Snapchat, and YouTube may be the place for you. If you prefer to write your stories, maybe start a blog or Facebook page. Twitter and Instagram can be great for interacting with others and sharing photos with shorter snippets of your life. The real secret to choosing your platform is use what you're comfortable using. If you don't know which one you like, use them all personally first, then choose the two or three that best fit you. Don't know how to use it? Ask! Find a friend who's making progress and ask them how. I still ask friends or other farmers how to edit videos or use new app features all the time.
What we need to remember is that we're trying to reach beyond the choir, or other farmers. It's great to find farm friends who understand what we're going through, but the goal is to share what we do and why with people we don't know. So, don't just share about farming; share about your life. Share your highs and lows, share about your family, or maybe give a weekly rundown of the newest Hallmark Channel movie you watched on Saturday night. The more people relate to you, the more followers you'll get.
---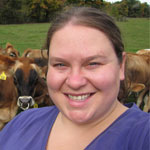 The author dairies in partnership with her parents and brother at Spruce Row Farm in Pennsylvania. Jessica is a graduate of Pennsylvania State University, and since 2015, she has been active in promoting dairy in her local community. You can find her and her 250 Jersey cows on Facebook at Spruce Row Dairy or on Instagram at @seejessfarm.