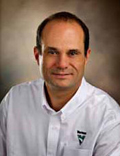 Marco Livoti has joined Vermeer Corporation as Forage Regional Manager for the Forage Solutions division in Latin America. Livoti will be based at Vermeer Latin America in Valinhos, Brazil, where he will be responsible for defining and executing the strategic direction of Vermeer's hay and forage equipment business in the region. Previously, Livoti served in a similar role for the Storti and the Tonutti Group, as well as the JF Corporation of Brazil.
Livoti will play an integral role in expanding the distribution of Vermeer's full line of forage machinery throughout Latin America. In addition, he will spearhead the regional distribution of Lely products available under the Vermeer brand, as well as balers and bale-wrappers made by the German manufacturer Welger. Vermeer and the Dutch-based Lely Group jointly acquired Welger in 2008.
"We're very excited to have Livoti coordinating our efforts in Latin America," said Director of Forage Solutions, Joe Michaels. "He brings a wealth of experience and industry knowledge crucial to the region, and is a proven leader in the agriculture industry. He is certainly a great addition to our Forage Solutions team."
Livoti holds a law degree from University of Palermo, Italy and an MBA from the University of Houston (Texas). He has lived in Brazil for over 25 years and speaks four languages.
Vermeer manufactures a full line of haying equipment including large round balers, mowers, mower/conditioners, rakes, tedders, bale processors, silage wrappers, bale movers and hay handling equipment; plus a wide assortment of industrial equipment for tree, construction, bio-energy, environmental and underground utility service work. For more information on Vermeer Agricultural equipment, log into the Vermeer website at Vermeer.com
08.02.2011