Locust Trace Opens Doors to New Generation of Ag Science Education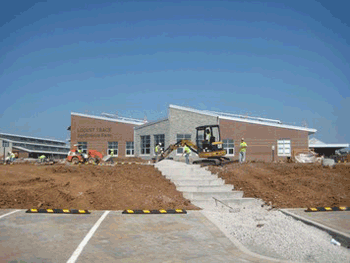 A view from the front parking lot of the new school.
Lexington, KY - The role agriculture plays in society is extensive, to say the least, but that often goes unseen - or at the very least, it's not a common topic of conversation.
However, with food, fuel and fiber at the center of the agriculture industry, especially the world's food supply, the need for educating a new generation on agriculture is necessary - if not critical - to future human well-being.
The new Locust Trace AgriScience Farm located on 82 acres of rolling farmland along Leestown Road in Fayette County will give new meaning to what ag education is all about and what it will look like in the future.
The $18 million school, which serves as the agricultural component of the Eastside Technical Center, is preparing to open this year as a working farm with a strong emphasis on the equine sector, complete with a vet clinic and a classroom building not only for ag classes but for traditional math, English and science classes as well. The 82-acre campus is designed to accommodate up to 250 students.
Fayette County Public Schools received the land for the school at no cost from the federal government's surplus property program. Joe Norman, principal at Eastside, said the new school represents a "re-thinking of ag ed" in many ways.
"We are trying to give students the best education we possibly can, and through the advances at this school, we are giving them the opportunity to go more in-depth with training at the high school level and to better prepare them for the college or postsecondary level," he said.
Norman also said the school should open doors for students by helping them to better understand the number of different occupations that are tied to agriculture. The school will have the capacity to serve all of the public high schools in the county with five agriculture teachers on staff. Indeed, at the root of these educational needs are agriculture educators and the programs they teach or develop.
Matt Chaliff serves as the ag education program consultant for the Kentucky Department of Education (KDE) as well as executive secretary for the state's FFA organization (also known as Future Farmers of America). In doing so, Chaliff works with the 250 agriculture educators in 145 agriculture programs across the state on issues related to curriculum, facilities and program development, just to name a few - or as he puts it, anything to make the local programs stronger.
"One of the neat things about agriculture education is we're able to help students learn core academic content but learn it in an applied manner," Chaliff said. "And they are able to apply that in a real-world setting. We think that is really valuable and helps students get their hands around what they're doing and learn it a lot better."
But ag educators are not just seeing farm kids come through their doors. Chaliff said more than half of those students come from a non-farming background. Add to that the different kinds of programs connected with agriculture, such as food science, environment science, agri-business and horticulture; today's educators are teaching things not thought of 20 or 30 years ago.
Chaliff said these kinds of subjects may not lead students to production agriculture, but they are still very important to the industry, considering the fact that about 20 percent of Kentucky's economy is made up of agricultural jobs.
"It's important that we have folks prepared for those jobs," he added. And as the scope of fields that can benefit from agriculture education grows, including the renewable fuels industry, many opportunities are available to students who choose to make agriculture their vocation. Chaliff pointed out that it is the network of ag educators that begin that process for countless students every year, through a three-circle model that includes classroom instruction, leadership development or FFA, and real-world experience, which is the Supervised Ag Experience (SAE) part of the program.
This model connects FFA directly with classroom learning. Students not only get instruction in varying environments depending on what is housed at each school, but they learn leadership skills directly related to those classroom experiences. Then they take that knowledge and incorporate it into a real-life setting through the SAE. Chaliff said FFA is intended to be an integral ingredient of the whole system and that one part doesn't work without the other.
"They (the students) get some kind of real-world experience that is agriculture related, hopefully that is related to their career pathway, and they get to apply what they have learned in class and actually build on that," said Chaliff. "There's a lot of work outside the normal 8-a.m.-to-3-p.m. day in order to keep a good solid ag program running. The job of the ag educator is to keep all those plates in the air at once."
But loving what they do is a driving force for the teachers and also the students. In fact, 80 to 90 percent of the current ag instructors Chaliff works with are former ag students and FFA members, he said. "Most ag teachers have come through the program and really enjoyed it and really got a lot out of it and wanted to do it themselves so they could give back and continue to make an impact on the kids," Chaliff said.
Still with all the changes that have occurred in the ag field over the last few years, the image of traditional farming comes to mind when it comes to agriculture education. Chaliff said today's ag-ed goes far beyond that.
"When you say agriculture, obviously most people immediately think of farming. Farmers are less than two percent of the total population, but even when you think about the production agriculture people, they are using apps on their smart phones to do their job every day and using high-tech computers and $300,000 pieces of equipment," he said.
Today's ag students can expect to choose from a wide variety of careers, from veterinarian assistants to pet groomers to mechanics to environmental sciences, and the list goes on.
Chaliff, who taught in the classroom himself before joining KDE, pointed out that one of his former students now works as an agronomist for the state's highway department. He said that each district has an agronomist on staff to manage the right-of-way land along the thousands of miles of highways in Kentucky. With so many opportunities available, Chaliff said agriculture education is a vital component of the overall educational picture in the state.
"It helps students get that context for their learning. It helps students get those 21st-century skills they need - things like communication, collaboration and critical thinking that we say every student needs to have. But in a traditional classroom setting, it's so hard to get," he said. "Through the different things in the ag classroom, FFA and the SAE programs, students are really getting those kinds of skills they need to be competitive in a global market."
And as a way of leading and teaching by example, when Locust Trace opens its doors and switches on its array of solar photovoltaic panels, it will be home to Fayette County Public Schools' first net-zero energy school. Its building operations will generate, over the course of a year, enough renewable energy to pay back the energy it takes from the utility company.
08.03.2011