Farmers and agriculturalists have always known that their industry never takes a day off. This resilience was put to the test when the COVID-19 pandemic struck supply chains, grocery stores, and restaurants with monumental hurdles. Nonetheless, farmers did what they do best and produced food for American families.
That effort was why it was so difficult to see empty store shelves and purchase limits at some grocery stores last spring as panic buying and stocking up on food items became normal. Consumers were frantic, and some were surely confused or angry with the scene. How could this happen? Where were the food producers?
Like everything else in the past 10 months, the American Farm Bureau Federation (AFBF) went online and set the record straight. The #StillFarming campaign was started on social media to share the story of American farmers and build consumers' confidence in the strength of the U.S. food supply. To date, AFBF reports that the movement has reached nearly 100 million people.
Now, Farm Bureau has kicked off a new partnership to build upon the success of the campaign while supporting food insecurity and agricultural education in the U.S. All proceeds from the sales of t-shirts featuring the #StillFarming logo will be donated, with half going to Feeding America, the country's largest domestic hunger relief organization. The other half will go to the American Farm Bureau Foundation for Agriculture, the education arm of AFBF that creates and provides resources about agricultural literacy.
Even prior to the pandemic, Feeding America estimated that one in nine Americans were affected by hunger — including 2.2 million rural households. Stay-at-home lockdowns have only exacerbated this problem, and demand at food banks across the country has skyrocketed.
Reaching people with the food we produce is a vital component of the agricultural system. Many farmers, farm groups, and food organizations stepped up to the plate last spring to donate food to those that needed it. Further, Farm Bureau and Feeding America were part of the conversation in establishing the Farmers to Families Food Box program, which has distributed over 3 billion meals since May.
The agricultural community can and should be proud of the work it has done throughout the pandemic to feed our country. Hunger relief and agricultural education are two more important pieces of this food system puzzle. If you'd like to show your support, the #StillFarming shirts are available from Farm Bureau's website.
---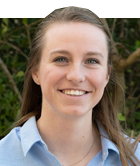 Katelyn Allen joined the Hoard's Dairyman team as the Publications Editor in August 2019 and is now an associate editor. Katelyn is a 2019 graduate of Virginia Tech, where she majored in dairy science and minored in communication. Katelyn grew up on her family's registered Holstein dairy, Glen-Toctin Farm, in Jefferson, Md.