New stainless-steel Sunflower air carts offer capacity up to 525 bushels for
fewer fills and more acres per day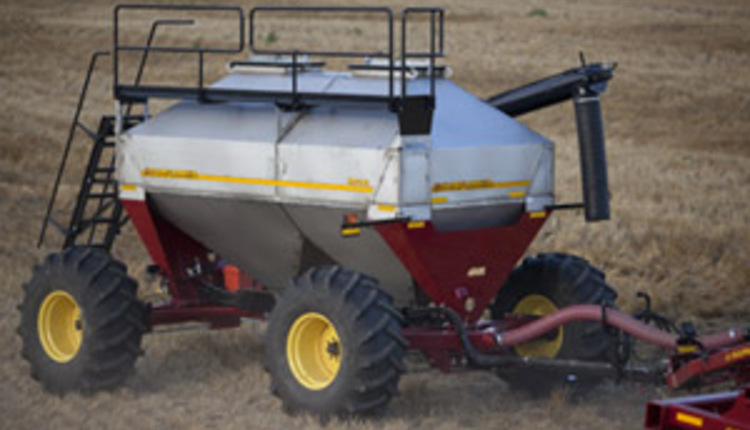 AGCO, Your Agriculture Company,
(NYSE:AGCO), a worldwide manufacturer and distributor of agricultural equipment, proudly introduces the all-new
Sunflower®
9900 Series Air Carts. Constructed of stainless steel for an extended life span, the 9900 Series combines large tank capacities with the industry's most unique seeding system designed to enhance seed placement accuracy and help producers cover more acres per day.
"Since air seeding was initially introduced in North America, many changes have taken place," explains Tom Draper, Sunflower seeding and tillage product manager. "We've seen significant gains in air seeding technology and manufacturing. A prime example of this is the all-new Sunflower 9900 Series Air Carts. These new carts pair with the Sunflower 9800 Series Single-Disc Air Drill, to deliver industry-leading seed placement accuracy and valuable flexibility when seeding in varying field conditions."
Built to the high Sunflower standards, the 9900 Series is made up of three models with capacities up to 525-bushels, allowing producers to select the ideal machine to match the seeding needs of their farming operation, large or small. Manufactured of stainless steel to reduce corrosion deterioration from granular fertilizer, the 9900 Series commodity tanks are available in three configurations, depending on the bushel capacity – ranging from the large, three-compartment 525-bushel model 9930, to the smaller, two-compartment 335-bushel and 280-bushel 9920 models. The 9930 model can be configured with a tow-between or tow-behind setup.
The blower system of the 9900 Series air carts is hydraulically driven and provides a strong, consistent airstream that gently delivers seed and/or fertilizer to the disc openers. Seed and fertilizer compartments always remain under positive pressure during operation to ensure accurate product flow to the meter system. An ISOBUS control module allows the entire system to be monitored and controlled from the tractor cab.
An optional variable-rate metering system uses electric over-hydraulic (EOH) technology to control the meter speed independently of ground speed. This gives the operator the benefit of faster calibration and the capability to change the rate on-the-go as well as the potential to apply product to a prescription map using GPS. A ground-driven system also is available.
Four meter-roller options are available depending on the seed to be planted. The high-capacity roll contains eight, 1/2-inch deep bars for use with larger fertilizers and seeds, such as soybeans. A medium-capacity roll with 12, 1/4-inch-deep bars is ideal for lower seeding and fertilizer rates. A low-volume roller is used for crops that require lower seed rates, such as sunflowers. And, for crops that require very low planting rates, such as canola, a roll with shallow depressions is used. Each roller is manufactured with stainless steel to ensure lifetime performance.
For quick, efficient filling and unloading, the 9900 Series features a double-hinged auger for exceptional balance, allowing one individual to easily move and manage the auger to load or unload the air cart.
Operator safety also was of the utmost importance in designing the new 9900 Series Air Carts. Grab handles are located at each climbing point and tread-plate platforms provide solid footing on high locations. Securely mounted double-horizontal bars, which can be lowered for easy storage, help protect operators standing or kneeling near the compartment hatches.
Sunflower, known as the "originator of flexible tillage tools," is the seeding and tillage division of AGCO. Sunflower is known around the world as a producer and marketer of top-quality products with exceptional customer support. Quality and service are what today's professional producers expect from their equipment and what Sunflower continues to provide.
For more information on the Sunflower 9900 Series Air Carts, see your local Sunflower equipment dealer or visit http://www.sunflowermfg.com.
08.10.2011