Many of us who grew up on a farm or raised kids on a farm often say that it's one of the best childhoods there is. Maybe we're a little biased, but how can anyone see the open space, blue sky, animals, and chance to learn from your family every day and not agree?
Working around livestock and equipment at a young age provides an incredible opportunity to learn responsibility and care, among so many other things. While those skills are learned in the context of caring for animals and the land, they can also apply to taking care of ourselves. Large animals and machinery demand respect, and that's a lesson young people working on the farm often learn quickly.
Unfortunately, learning that lesson can sometimes become very real with a farm safety incident. Farming consistently ranks high among the most dangerous jobs, meaning farm kids are exposed to safety risks much more often than other children. Adults working with young people in agriculture can help control these risks by providing proper planning, communication, and supervision.
A great place to start is assigning jobs that are age- and ability-appropriate for the kids you're working with. The National Children's Center for Rural and Agricultural Health and Safety has many resources on their website that can help you think through all of the abilities a child must have before being able to safely complete a variety of chores. Some, such as the physical ability to lift objects or operate necessary equipment, probably seem obvious to consider. Others are more abstract — do they have the attention span and ability to focus for how long the job will take? Can they react quickly and know what to do if something goes wrong?
While performing an appropriate job, an adult should supervise the youth if necessary. Children under 10 or those performing a new task should always be supervised, the National Children's Center says. With age and more abilities, check-ins can be less frequent, but even a quick "How's it going?" can make a big difference in keeping youth safe. These check-ins also give you a chance to correct techniques and provide retraining if needed. It's also an opportunity to praise youth for a job well done and safely.
When not under direct supervision, communication can prevent many accidents. A communication plan should include access to a cell phone or two-way radio, knowing when and when not to use the tool and an understanding of who to call and what to do in case of an emergency.
Ensuring kids stay safe on the farm is everyone's responsibility. To help every farm kid have the best experience possible, good communication and preparation are key.
---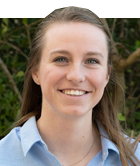 Katelyn Allen joined the Hoard's Dairyman team as the Publications Editor in August 2019 and is now an associate editor. Katelyn is a 2019 graduate of Virginia Tech, where she majored in dairy science and minored in communication. Katelyn grew up on her family's registered Holstein dairy, Glen-Toctin Farm, in Jefferson, Md.