The information below has been supplied by dairy marketers and other industry organizations. It has not been edited, verified or endorsed by Hoard's Dairyman.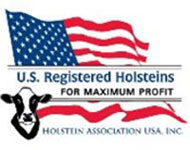 The highest honor presented to a Registered Holstein®, the Star of the Breed, recognizes a cow who excels at the show and on the farm. Holstein Association USA is thrilled to recognize Eastriver Goldwyn Deb 176 as the 2020 Star of the Breed.
Eastriver Goldwyn Deb 176 is owned in a partnership by Andy Stuewe and Corey Feltmann in Norwood Young America, Minnesota and was bred at Eastriver Farms in Prince Edward Island, Canada. Deb's owners describe her as "a cow you would take a hundred of."

<!-no ad-->
"She can hold her own in the showring, and I would put her up against anyone in the milking parlor," Corey said. "She produces really easy it seems and is low maintenance," Andy added. The friends bought Deb at the Best of Triple-T and Heath Sale in 2017.
Deb is scored EX-94 2E and has over 175,000 pounds of lifetime milk. She qualified for the award with her 296-day lactation, calving in at five years and nine months of age and producing 39,060 pounds of milk, 1,353 pounds of fat, and 1,241 pounds of protein. In 2020 she was named the second place 150,000-pound Lifetime Milk Production cow at the Midwest Fall National Holstein Show.
In addition to her showring success, Deb is a trouble-free cow in the barn. Eastriver Goldwyn Deb 176 is a Homestead Astronomical Deb EX-95 3E daughter and has several full sisters. Corey and Andy say they have been impressed with Deb's offspring so far, and plan to continue to IVF her. Two of her three oldest daughters are scored VG-86 as two-year-olds.

Eastriver Goldwyn Deb 176 will be recognized during the Annual Meeting on June 24, 2021 at the National Holstein Convention in Lancaster, Pennsylvania. To view more details or register for the convention visit www.2021nationalholsteinconvention.com.
Read more about this elite cow's story in the Spring 2021 issue of
The Pulse
. Select pages are now available online at
www.holsteinusa.com
under the Latest News tab.
About the Award
To be eligible for the Star of the Breed award, a cow must place in the top five in her class at a National Show, be in a herd enrolled in the TriStar SM program and have an official classification score.Once the eligible cows are determined, the following calculation is used to determine the award recipient: Combined Mature Equivalent (ME) Fat and Protein + Age Adjusted Classification Score X (Breed Average ME CFP/Breed Average Age Adjusted Score.)
For more information about the Star of the Breed Award, visit
www.holsteinusa.com/awards/animals.html
.