I've been "agvocating" on social media for over five years now. I'd say I'm moderately successful at it. I don't make any money, at least not enough to make an impact, but I love the creativity and relationships it has cultivated. For better or worse, social media is my social life. When I first started, I assumed I knew what I was doing. I mean, I was talking about the thing I was most passionate about in life; how could I not be good at it? But loving farming and being a good farmer does not mean you'll be a good advocate for agriculture. You have to be more.
You have to be willing to share your life off the farm. Connecting with your audience is what draws them in and keeps them there. If you're trying to reach the non-ag crowd, what's one thing that they can't relate to? Agriculture. By sharing recipes, hair tutorials, or stories about your kids, you're relating to something anyone could understand. Then once you've drawn them in, throw in a few posts about farming. If they trust who you are, they'll believe what you share.

If you want to make a big impact, you have to take some big risks. You know that idea in the back of your head that seems a little extra crazy? Or maybe it's a post or video that just plain scares you? Do it anyway. Most of my fondest social media memories came from big risks. Three years ago, my now best friend and I started a global dance party that garnered almost a hundred different videos posted from a dozen different countries culminating in millions of views. Currently, along with four other awesome dairy ladies, Milk Flip Cup is taking over Instagram. It's a flip cup tournament being conducted live on Instagram. We are right at the beginning of our second year and have already raised $27,000 from 20 different sponsors. We'll continue collecting donations the entire month of June while 16 other agvocates, from all different ag backgrounds, play each other in a tournament until there is only one champion left standing. By the last weekend in June, we're hoping to have raised over $30,000 to donate to Feeding America. That's a big deal. That proves that one person or a few people really can make a big impact via social media. But it takes more than just a passion for farming.

To be a successful agvocate you have be open, daring, and brave. You have to bold, but at times reserved. You have to be honest, creative, and knowledgeable. You have to know when to push your opinions but also know when facts are necessary. It's not a science or an art form, but it's also kind of both. More than anything, you have to be you.
---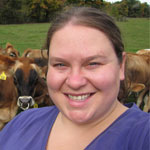 The author dairies in partnership with her parents and brother at Spruce Row Farm in Pennsylvania. Jessica is a graduate of Pennsylvania State University, and since 2015, she has been active in promoting dairy in her local community. You can find her and her 250 Jersey cows on Facebook at Spruce Row Dairy or on Instagram at @seejessfarm.